After a rough start, the Washington Capitals have a chance to end their season-long five-game road trip on a three-game win streak. Their last stop takes them to Madison Square Garden for a matchup with their Metropolitan Division rival New York Rangers.
The Rangers will be well-rested after their blowout win against the Dallas Stars on Tuesday. Can they get another big win against the current owners of the NHL's best record?
Read on for our complete preview of this massive Metropolitan Division matchup. Meanwhile, don't forget to check out our previews of Saturday's NFL wild card matchups, with the Chiefs vs. Texans and Steelers vs. Bengals.
[sc:NHLArticles ]
Washington Capitals vs. New York Rangers Preview
Where: Madison Square Garden, New York
When: Saturday, January 9, 1:00 PM ET
Line: Washington Capitals vs. New York Rangers – view all NHL lines
Betting on the Washington Capitals (30-7-3, 63 pts)
After suffering their first back-to-back losses of the season at Carolina and Columbus, the Caps have wasted no time in building another win streak with wins over the Bruins and Islanders. The first line pair of Alex Ovechkin and Nick Backstrom did the damage with two goals and three points in their 4-1 win over the Isles on Thursday.
[sc:NHL240 ]The Caps now improved to 11-1-1 in their last 13 games. One of those wins included a 7-3 win at Madison Square Garden on Dec. 20, and should be confident in another strong performance against the Rangers.
Ovechkin, in particular, must be absolutely giddy that he gets to face the Rangers again. Ovi has scored in seven consecutive regular season games against New York – including their first two meetings this season – and added three more in their seven-game playoff series last season.
Goalie Braden Holtby doesn't have the best record in Madison Square Garden, going just 6-12 in 18 career starts in the building. However, he's playing arguably the best hockey of his career and will be a tough obstacle to overcome for New York's prolific offense.
Holtby's 1.93 GAA and .932 save percentage this season are tops among goalies with over 30 starts. Moreover, the Caps are an incredible 18-2 in their last 20 games with Holtby in goal.
Create a betting account now and cash in on all the cool NHL action.
Betting on the New York Rangers (22-14-4, 48 pts)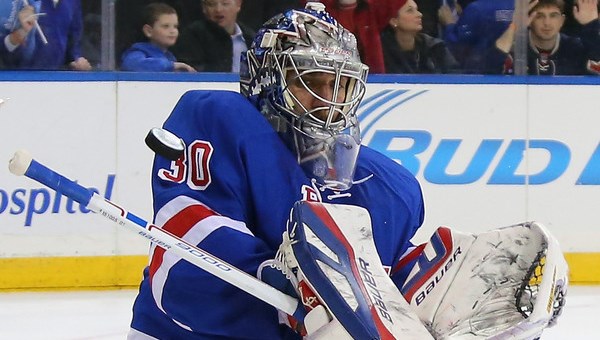 It's been quite a while since the New York Rangers lasted tasted a winning streak. (Nov. 23 was the last time, to be exact.) The Rangers have gone just 6-11-1 since then. But they get a shot to finally break that drought after they drubbed the previously league-leading Dallas Stars, 6-2, on Tuesday.
It was another very impressive performance from the Rangers' well-balanced attack, as they scored at least five goals for the second time in three games. The Rangers haven't had too many problems putting the puck in the net this season. They're No. 4 in scoring, averaging 2.9 goals per game.
However, star goalie Henrik Lunqvist has been unable to keep the puck out of the New York net. His 2.49 GAA is 25th in the league, and it's ballooned to 3.4 over his last 10 games.
With King Henrik and the Rangers defense struggling, the offense will have to continue getting those goals for the team to come up with a much-needed win. Thankfully, the Rangers have had a lot of success against the Caps' Holtby this season, scoring eight goals in their first two meetings against the leading Vezina candidate.
The Rangers have also had significantly more success at home than on the road. The Rangers are 15-5-1 at Madison Square Garden this season, tied with the Caps for the most home wins in the East.
Writer's Prediction
Ovechkin gets another goal against the rangers to lead the Caps to a 4-2 win.
[sc:NHL490 ]
1,787 total views, 1 views today
Comments
comments