The Philadelphia Eagles snatched another victory from the jaws of defeat when they pulled off a stunning win over the Indianapolis Colts on Monday night to improve their record to 2-0. They can make it three straight wins when they face the Washington Redskins who are still reeling with the news of Robert Griffin III's possible season-ending injury.
Can the Redskins step up in RGIII's absence and deal Philadelphia their first loss of the season? Or will Nick Foles and company maintain their perfect start to the season? Read on for a complete preview of this matchup and while you're at it, you can check out our previews of the Houston vs. NY Giants and Dallas vs. St. Louis games.
[sc:Football ]
Washington Redskins vs. Philadelphia Eagles Preview
When: Sunday, September 21, 1:00 PM ET
Where: Lincoln Financial Field, Philadelphia
Line: Washington Redskins (+6.5) at Philadelphia Eagles (-6.5); total 50.0 – view all NFL lines
Betting on the Washington Redskins
A 31-point victory is a cause for celebration for any NFL team especially if that win is your first of the season. However, there was nothing of that sort in Washington's 41-10 rout of the Jacksonville Jaguars last Sunday as they once again faced the spectre of playing the rest of the season without their franchise quarterback.
[sc:NFL240banner ]QB Robert Griffin III dislocated his left ankle when he landed awkwardly after making an acrobatic, across-the-body throw in the first quarter of the game against the Jaguars. The good news coming out of Washington is that Griffin can still make a return this season after MRI results showed that there was no fracture in his left ankle.
Still, the 24-year-old QB will miss considerable time and that is a huge blow to head coach Jay Gruden who had grand plans for RGIII this season. The Redskins will have no choice but to move forward. Luckily for them, there is still reason for optimism after the performance served up by backup quarterback Kirk Cousins.
Cousins was tremendous in Griffin's absence, completing 22 of 33 passes for 250 yards and two touchdowns. Despite losing his top receiving threat in DeSean Jackson later in the game with a shoulder injury, Cousins was undaunted as he completed 66.7 percent of his passes and gained a healthy 7.58 yards per attempt.
He was so good in this game that some have even said that Cousins may be a better fit for Gruden's system than Griffin. Even during the preseason games, Cousins was more comfortable than RGIII in executing the Redskins' pocket-based passing game.
It's easy to go crazy over Cousins' performance last Sunday but we should remember that he did it against the lowly Jacksonville Jaguars. The real test will come this week when he squares off with the Philadelphia Eagles who have started the season 2-0.
They will take heart in the knowledge that they have fared extremely well against the spread when facing the Eagles on the road. The Redskins are 5-2 ATS in their last seven meetings with the Eagles at Philadelphia.
Betting on the Philadelphia Eagles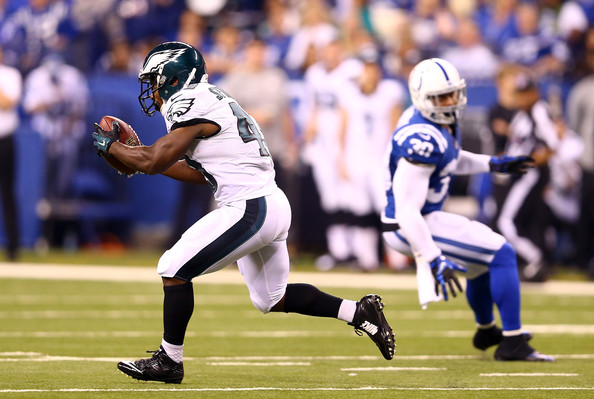 The Philadelphia Eagles are proving to be the comeback kids this season after scoring another come-from-behind win on Monday night to improve their record to a perfect 2-0.
Quarterback Nick Foles was clutch down the stretch as he threw a game-tying touchdown pass with 3:25 to go and then set up Cody Parkey for the game-winning 36-yard field goal with no time remaining as the Eagles eked out a nail-biting 30-27 win.
Foles completed 21 of 37 passes for 331 yards and a touchdown but those numbers would be for naught if not for the exploits of running back Darren Sproles. He was unstoppable on Monday night, as he had seven receptions for 152 yards to go along with his touchdown run in a magnificent all-around performance.
By virtue of this victory, the Eagles became the fourth NFL team in the last 30 years to win consecutive games in which they trailed by 14 or more in the second half. Many were expecting them to come from behind against the Jaguars last time out but to do it against the defending AFC South champions on the road was something altogether more impressive.
They can't expect to do this game in and game out, though, so it is a must that they get off to a solid start in their next game against the Redskins this coming Sunday. In order for them to achieve this, they will need to do a better job of limiting their penalties.
In the game against the Colts, the Eagles committed 11 penalties which cost them a total of 90 yards. As a result, they only managed to stay on the field for 23 minutes and 45 seconds. If they can minimize those penalties, they will be able to control the possession which will mean more opportunities for Foles to execute Chip Kelly's fast-moving offensive sets.
The Eagles are 7-3 in their last 10 meetings with the Redskins. They are an impressive 5-1 in their last six games at home dating back to November last year.
Writer's Prediction
The Eagles preserve their unbeaten record to go 3-0. Create a betting account now and cash in on another big week in the NFL.
[sc:NFL490Banner ]
1,897 total views, 1 views today
Comments
comments