Every team in the NFL has needs. But some, coming off foul, unwatchable seasons, have more urgent needs than others. And yet, inevitably, some of the league's worst teams will bungle their opportunity to address a core need, or pick a high-value player. And if you're a fan who has suffered through a rough season (or five), you'll be watching with baited breath as teams line up to meet their picks/fates in the NFL Draft on May 8th.
To attempt to calm some of that anxiety and manage expectations, we've provided some educated guesses for which way teams will go with their picks below.
[sc:MultiSportArticles ]
Top 10 NFL Draft First Round Picks and Predictions
1. Houston Texans
Need: Quarterback, Defensive End
Despite owning the first overall pick after a horrendous 2013 season, the Texans are in far better shape than others picking early in the draft, and are currently priced at +1,600 to win the Super Bowl – even before taking an elite talent in the draft.
After the departure of Matt Schaub, it was supposed to be a no-brainer that the team would use its No.1 overall pick on a quarterback, someone who will immediately be thrust into the job of cleaning up the mess wrought by their former slinger. However, they also need a topnotch pass rusher.
First Round Pick Prediction: DE Jadeveon Clowney, South Carolina
Clowney is the only clear-cut, can't-miss prospect in the draft. The Texans can still address their need in the QB position later since they also own the first selection in the second round (33rd overall) and look for that to be exactly as they handle things.
2. St. Louis Rams
Need: Wide Receiver, Offensive Tackle
[sc:NFL240banner ]Whatever quarterback Sam Bradford needs, the Rams must provide. The Rams could make a splash this season and be the NFL's breakout team of the year with their healthy QB back. But if Bradford gets injured again, Jeff Fisher and his team could also be re-acquainted with the bottom of the division. St. Louis must surround him with a better o-line.
First Round Pick Prediction:  OT Greg Robinson, Auburn
It's tempting to pencil a wide receiver like Sammy Watkins as the Rams' first round pick. Pairing him with Bradford would give St. Louis a vastly improved passing game. However, that will all be nixed if Bradford suffers another devastating injury. Robinson can give Bradford added security on offense, thus helping the Rams remain competitive for the entire season.
3. Jacksonville Jaguars
Need: Quarterback, Offensive Tackle
Blaine Gabbert's gone. Chad Henne is now penciled in as the starter behind center, but he's clearly not the franchise quarterback the Jaguars are looking for, nor someone fans can pin their hopes on to turn around the future of their club. On the other hand, the Jaguars splurged during the free agency frenzy, boosting their defensive line with a series of re-signings and new acquisitions.
First Round Pick Prediction: DE Khalil Mack, Buffalo
While they're at it, the Jaguars could add to the brick wall they are building on defense by selecting Buffalo product Khalil Mack. It usually takes seasons for a QB to right the ship of a struggling franchise, and coach Gus Bradley is clearly looking to take the same defense-first route to success taken by teams like the Seattle Seahawks.
4. Cleveland Browns
Need: Quarterback
Brian Hoyer does not fit the franchise QB label but the Browns have the chance of getting one in the draft. A QB that has a proven winning attitude and elite creativity to get the ball to his receivers no matter what kind of defense is thrown at him would be a game-changer for this Browns team that is struggling to get to the next level despire some significant improvements.
First Round Pick Prediction: QB Johnny Manziel, Texas A&M
By selecting Manziel, the Browns would lock up a player who would electrify the Dawg Pound with an assortment of fireworks on offense.
5. Oakland Raiders
Need: Quarterback, Wide Receiver, Offensive Lineman
The 2013 Raiders had many holes in their roster but none bigger than at quarterback. With Matt Schaub's arrival, Oakland has given itself the luxury of spending a later round pick on a QB who may need more time to develop.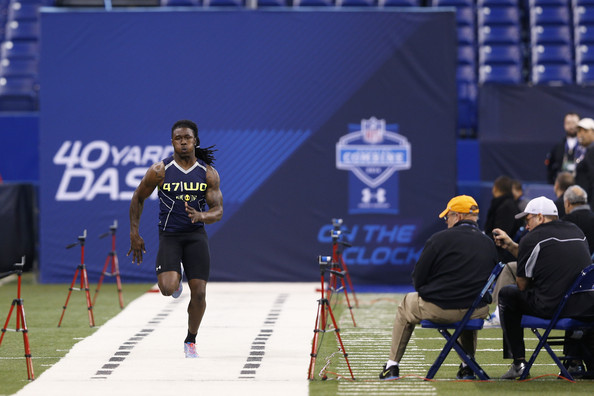 First Round Pick Prediction: WR Sammy Watkins, Clemson
To give Schaub the chance to redeem himself after a catastrophic stint in Houston, the Raiders would be better off selecting Watkins, touted as the best in his position in this year's draft.
6. Atlanta Falcons
Need: Defensive End, Offensive Tackle, Outside Linebacker, Tight End
The Falcons' defense is begging to get revamped after being tattered last season by opposing offenses. Atlanta finished 21st last season in opposing passing yards (243.6 per game) and 31st in opposing rushing yards (135.8 per game). The team has taken its first steps towards the right direction by signing defensive linemen Paul Soliai and Tyson Jackson. Meanwhile, the tight end position also needs attention now that Tony Gonzales has called it quits.
First Round Pick Prediction: OT Jake Matthews, Texas A&M
Should the Falcons decide not to trade their pick or if Jadeveon Clowney, Khalil Mack, or Greg Robinson go off the board early, they could snag Jake Matthews out of Texas A&M. Matthews could help reduce the number of times Matt Ryan gets dropped on his back in 2014. If the Falcons can lock up any of these options, it could be the difference in their value to win the NFC spiking from +2,200 where it's at now.
7. Tampa Bay Buccaneers
Need: Quarterback, Wide Receiver
Josh McCown has found a new team in the Buccaneers, which takes away  Tampa Bay's urgent need for first round-calibre QB. The former Chicago Bear now has the unenviable task of rectifying the Bucs' offense, which finished dead last in passing yards last season. Vincent Jackson will help with that, but the Bucs needs to get someone opposite Jackson to form a more potent offense.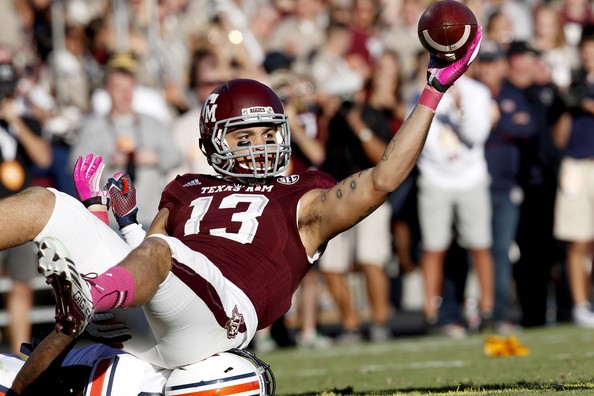 First Round Pick Prediction: WR Mike Evans, Texas A&M
It is wishful thinking to hope that Sammy Watkins will still be available by the time the Bucs get their chance to select their pick at No. 7. However, they still have Mike Evans, whose track record in college includes being the excellent sidekick for Johnny Manziel's exploits. He will come in handy immediately, especially given Tampa Bay has traded Mike Williams to the Bills.
8. Minnesota Vikings
Need: Quarterback, Cornerback
The Vikings are another team that could use a proper QB. They are also looking to fortify their secondary.  According to Football Outsiders, the team's pass defense ranked 29th in the league.
First Round Pick Prediction: QB Teddy Bridgewater, Louisville
Though Bridgewater's stock has plummeted, offensive coordinator Norv Turner could play a big role in developing the young QB, just as he did in the past with Troy Aikman.
9. Buffalo Bills
Need: Wide Receiver, Tight End
With E.J. Manuel appearing to be set as Buffalo's quarterback for years to come, the Bills now shift their attention to finding their slinger more weapons on offense.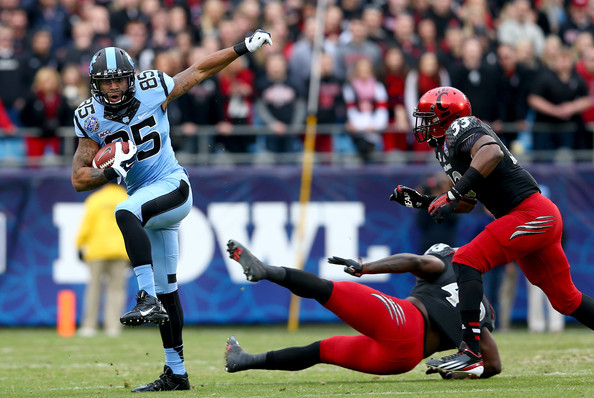 First Round Pick Prediction: TE, Eric Ebron, North Carolina
The Bills have already traded for WR Mike Williams, and they could be looking to draft a tight end for their first overall pick – unless of course Sammy Watkins or another highly rated receiver is still available. Ebron is advertised as the best tight end in the draft so if the Bills can't get their hands on a hotshot wide receiver like Watkins or Mike Evans, they might well settle on the former North Carolina standout.
10. Detroit Lions
Need: Cornerback, Safety
Defense has been a point of concern for Detroit over the last few years and last season was no exception. Although the front seven led by Ndamukong Suh have done a good job, the Lions' secondary needs more tweaking, as evidenced by the team's 23rd-ranked passing yards defense (246.9 allowed per game).
First Round Pick Prediction: CB, Justin Gilbert, Oklahoma State
It wouldn't be much of a surprise if Detroit chooses a secondary player when their team is called in the first round. If so, then that would be Gilbert, reputed as the best cornerback in the draft pool.
[sc:NFL490Banner ]
1,852 total views, 1 views today
Comments
comments