It's the battle of the beasts as the Los Angeles Rams lock horns with the Cincinnati Bengals for Super Bowl 56 at SoFi Stadium in Inglewood, California. We've already curated sports-media expert predictions for the big game and made our own, but human intuition only goes so far. To provide further confidence that you're making the right picks for your wagers, we turn to one of America's favorite resources – the animal kingdom. While collectively they didn't get it right last year, favoring the Chiefs over the Buccaneers, history is absolutely on their side. And as far as history goes, they tend to favor the underdog. Does that mean the Bengals who are 4-point underdogs a sure thing as far as our furry, feathery, and scaly friends are considered? Let's find out.
Current Animal Picks Total:  Rams 2 / Bengals 2
(updated daily)
Click here to make your Super Bowl 56 picks

Super Bowl LVI Picks and Predictions from America's Favorite Animals
---
Jimmy Fallon's Puppies | Cincinnati Bengals
The Tonight Show Starring Jimmy Fallon ran their fifth puppy Super Bowl prediction and it was a close one. One puppy wore a Bengals jersey, and the other a Rams jersey. At first it seemed that the Rams were going to run away with a win. Their furry rep took an early lead, but then the Bengals' stand-in stepped up to make it a photo-finish. What happened after reviewing the replay? The underdog won after being down in the first three-quarters. Take note live-bettors as anything can happen during the game (bet the Super Bowl live here). It ain't over until it's over, Rover.
---
Edwina the Groundhog – Los Angeles Rams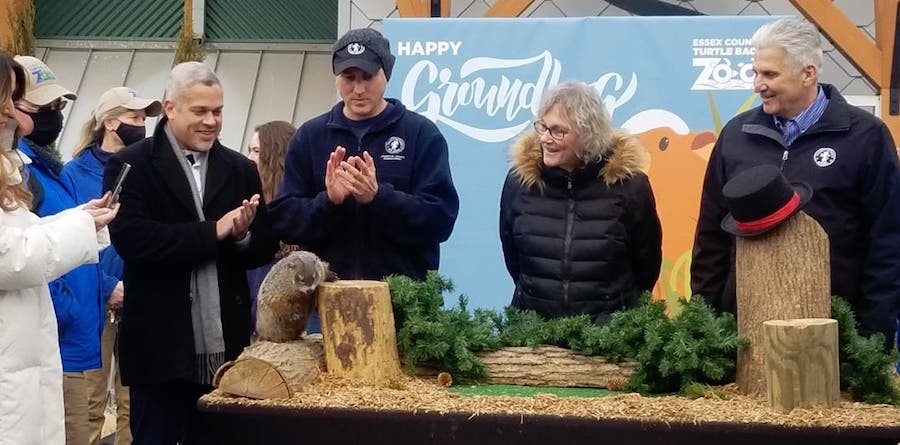 While everyone else was focused on Groundhog Day results (an early spring is coming, by the way) a new resident at the Turtle Back Zoo in Essex County delivered the news on something that sports fans want to know more than the weather. Edwina the Groundhog followed her early spring prediction up with a Super Bowl LVI pick. Who did she choose? You can watch the painstakingly boring video from Turtle Back Zoo here to find out, but allows us to save you effort. Edwina picked the LA Rams.
---
Fiona the Hippo – Cincinnati Bengals
Last year, Cincinnati Zoo's Fiona the Hippo correctly picked Tampa Bay to win. That prediction gave her a 2-2 record over the last four years, so look for Fiona to score a winning record as she enters 2022.
---
Sid the Wolverine – Los Angeles Rams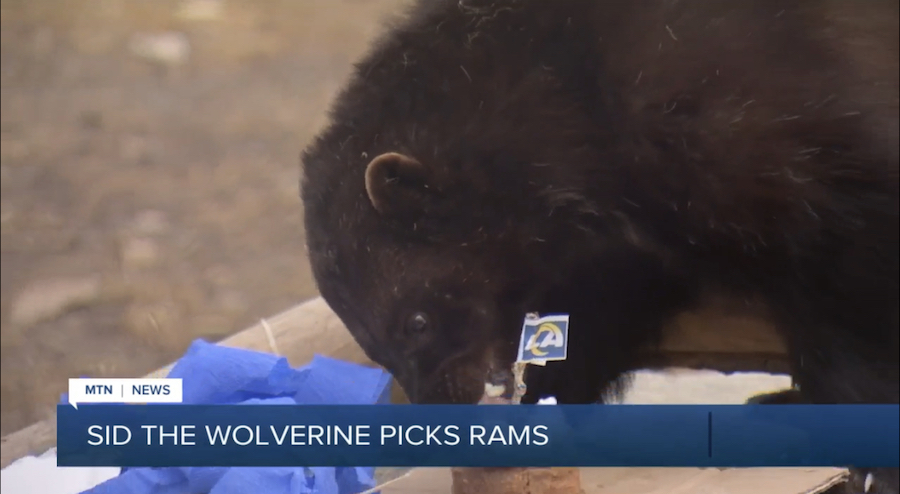 Zoo Montana's resident wolverine is the most winningest of animal kingdom Super Bowl predictors. He has an impressive 8-2 record heading into this coming Super Bowl Sunday. We've even speculated giving his picks more weight (2 to 1) than the other supposed experts on our annual panel. if he nails it again for Super Bowl LVI (and subsequently increase his record to 9-2 we'll do exactly that. But let's see how this one plays out first. So who does Sid favor? On Wednesday, when presented with two cakes, one for the Rams and one for the Bengals, we went straight for the former, choosing the Los Angeles Rams for the win. It's one thing to bet against the favorite (-4 odds to win) but betting against Sid is a whole other thing. Wager accordingly!
---
Nicholas the Dolphin – TBD
Prediction coming soon.
---
LeLe the Panda – TBD
Prediction coming soon.
---
Leila the Harbor Seal – TBD
Prediction coming soon.
---
At press, the wild kingdom has been slow to come our of hibernation and make their picks in a timely fashion. So far, inhabitants of zoos, aquariums, and other animal sanctuaries are split with a 2-2 record in favor of neither team. Although, as we mentioned above, with an 8-2 record Sid the Wolverine's pick should be weighted heavier. Check in daily between now and Sunday (February 13) for updates as zoo animals, popular pets, and other critters across the USA weigh in with their picks.
Now that you're armed with the expert opinions of the human and animal variety, are you ready to make your own Super Bowl LVI predictions? Register to do so and make your NFL wager here.
Click here to make your Super Bowl 56 picks

2,876 total views, 2 views today
Comments
comments