The bleeding continues for the Atlanta Falcons, who started the season 5-0 but have now lost six straight games. Fortunately, they still have enough time to get it together and make a run at an NFC wild card spot. The Falcons will now be playing a crucial game against the Jacksonville Jaguars, who will also be striving to keep their playoff hopes alive, at EverBank Field this coming weekend.
Who will come away with the much-needed victory? Read on below for an in-depth breakdown of this promising matchup. For more football action, check out our other Week 15 previews: Jets at Cowboys and Browns at Seahawks.
[sc:Football ]
Atlanta Falcons vs. Jacksonville Jaguars Preview
Where: EverBank Field, Jacksonville
When: Sunday, December 20, 1:00 PM ET
Line: Atlanta Falcons (+3) at Jacksonville Jaguars (-3); total: 49.0 – view all NFL lines
TV Broadcast: FOX
Betting on the Atlanta Falcons (6-7)
What in the world is happening with the Atlanta Falcons? The Falcons' misery continued as they incurred their sixth-consecutive loss on Sunday against the still-unbeaten Carolina Panthers, who held them scoreless (38-0) for the first time since 2004. They were outgained 424-230, and committed four turnovers.
[sc:NFL240banner ]A testament to this struggle was their quarterback, Matt Ryan. He completed 22-of-44 passes for 224 yards with zero touchdowns and a pick. Ryan has now tallied a total of 10 interceptions in his previous 10 games and he will hope to finally stop the bleeding when they pay the feisty Jacksonville Jaguars a visit at EverBank Field.
For them to achieve this, not only does Ryan ought to be more cautious with his passes but also make sure that the pair of Devonta Freeman and Julio Jones get their touches against a Jacksonville defense that's allowing 364.1 yards of total offense across 13 games this season.
Freeman has been quiet lately, tallying just 142 yards on 51 carries in his previous four outings. But the Jaguars can't afford to give him any slack as the 23-year-old back still holds a team-best of 851 rushing yards with nine TDs and has reached the 100-yard mark four times.
Jones, meanwhile, remains to be one of the best wideouts in the league right now and is a major reason why Atlanta's passing game (270.1 yards per game) has been successful this season. Jones currently owns an NFL-high of 1,426 receiving yards with six scores and is averaging 13.1 yards per catch through 12 games.
Atlanta is 3-4 SU and 2-5 ATS on the road this season.
Create a betting account now and put your NFL predictions to the test!
Betting on the Jacksonville Jaguars (5-8)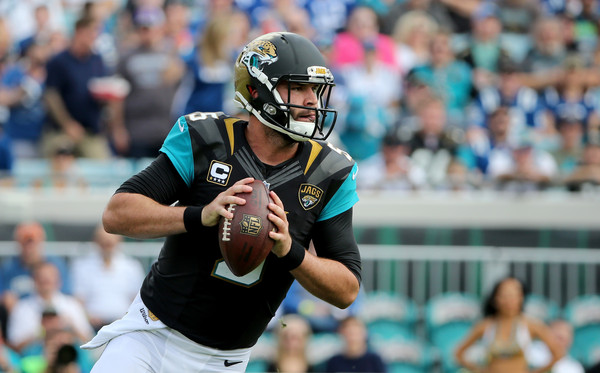 Dominant. That basically describes Jacksonville's performance during its 51-16 win over the visiting Colts last Sunday. Blake Bortles was brilliant once again, as he passed for 250 yards and three touchdowns while also carried the ball four times for 17 yards with his fourth touchdown.
That game was even more special for the Jaguars as they finished with their highest-scoring output in a regular season game which helped them ultimately keep their playoff hopes alive. They'll try to sustain this momentum further and make it back-to-back wins at the expense of Atlanta Falcons this Thursday night.
Defense will play a huge part in the Jaguars' chances of winning this game. Their secondary defense (261.7 yards allowed per game), in particular, will really need to be to do its best in trying to hold off the likes of Julio Jones, who currently leads the league in receiving yards.
As for the offense, Bortles will have reliable targets in Allen Robinson and Allen Hurns to initiate their own passing game. The two have been their most consistent wide receivers this season as they've combined for a staggering 1,947 receiving yards and 20 touchdowns.
Also, it'll be interesting to see if running back Denard Robinson, who ran for a season-best of 75 yards on 14 carries with a score against Indy, could remain consistent opposite a Falcons defense that's yielding 105. 6 yards rushing per game. He's bound to do so especially if rookie T.J Yeldon fails to suit up next week due to a knee injury he suffered versus Indy.
Jacksonville is 4-3 SU and ATS at EverBank Field this season.
Writer's Prediction
Jacksonville ekes out the 20-17 win. Create a betting account now and cash in on all the NFL regular season action.
[sc:NFL490Banner ]
1,987 total views, 1 views today
Comments
comments