Sean Payton and Rob Ryan will welcome to their home turf the team they once helped coach: the Dallas Cowboys. The Saints are looking to regain their footing after losing to the Jets in Week 9, while the Cowboys aim to deal New Orleans their first home loss.
Dallas Cowboys vs. New Orleans Saints Betting Preview
When: November 10, 8:30 P.M. ET
Where: Mercedes-Benz Superdome, New Orleans, Louisiana
Odds
*As of November 5.
Money: Cowboys (+7), Saints (-7)
Spread: Cowboys (+13.5), Saints (-13.5)
Totals: 53.0
| | Dallas Cowboys | New Orleans Saints |
| --- | --- | --- |
| SU/ATS | 5-4/7-2 | 6-2/5-3 |
| OU | 4-5 | 4-4 |
| Last Game | vs. Vikings (W 27-23) | vs. Jets (L 26-20) |
| Player to Watch | Tony Romo (20 Passing TDs) | Jimmy Graham (746 Receiving Yards – 5th best in NFL) |
Betting on the Dallas Cowboys:
Tony Romo came to the Cowboys' rescue after Minnesota threatened to leave Dallas with a major road upset last Sunday. Romo's seven-yard touchdown pass to WR Dwayne Harris with 35 seconds left put Dallas ahead for good to win the game 27-23. [sc:NFL240banner ]
It was Dallas' third win in four games, but the Cowboys could have been boasting a four-game winning streak if not for that heartbreaker in Detroit in Week 8, when they let the Lions overcome a big fourth quarter deficit, ending in a bitter 31-30 Dallas loss.
In the Vikings game, Romo came through with a 337-yard passing performance, his second best this season. He is one of only three QBs so far to have at least 20 touchdown passes and his 2,553 total passing yards is fifth best in the NFL so far this season.
Romo's been left to spark a big chunk of the Cowboys' scoring as their rushing game is visibly sputtering since the season began. The ground attack reached its lowest point when it set a franchise low of nine carries in their victory against Minnesota. Dallas' receiving corps has produced 20 TDs as compared to their rushers who put up a measly five touchdowns.
Aside from going 3-1 SU in their last four games, the Cowboys are also 4-1 ATS in their last four outings. They lead the NFL in satisfied spread bettors with a league best 7-2 ATS record.
Bet on the Dallas Cowboys now.
Betting on the New Orleans Saints: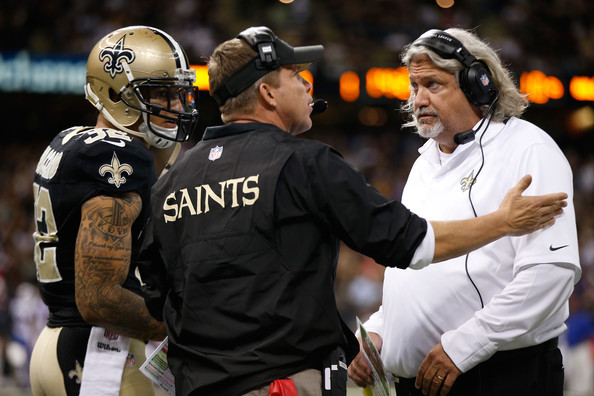 Home is where the Saints have looked indestructible this season. And if the trend remains the same, then Dallas is about to smash right into a brick wall. New Orleans is 4-0 SU and ATS at home this season.
Sean Payton and his New Orleans squad are heading back home after losing on the road to the Jets, 26-20 – their second loss away from home. Defensive coordinator Rob Ryan, disgruntled by the Saints' defense against the rush last week when his team gave up 198 rushing yards to the Jets, will worry less about Dallas' rushing game (75.7 yards per game -27th in the league), and more about the arm of Tony Romo.
[sc:NFL490Banner ]
It's a good thing New Orleans is fifth best in the league in limiting opponents' passing yards. The Saints allow just 211.0 passing yards per game and their aerial defense could be the key to getting their fifth home win and seventh overall on the season.
Matched-up against Romo is Drew Brees who is second in the league in total passing yards with 2,672, as well as yards per game with 334.
The Saints are 3-1 ATS in their last four games as the favorite. Plus, the team is 7-1 SU in their last eight games against the Cowboys.
Bet on the New Orleans Saints now.
2,134 total views, 1 views today
Comments
comments