The Tennessee Titans may not be pushovers after all after issuing a 26-10 beat down against the Kansas City Chiefs. They can extend their record to 2-0 this coming Sunday when they host the Dallas Cowboys, who are coming off a disappointing 28-17 defeat to the San Francisco 49ers.
Can Tony Romo find his groove back and lead Dallas to its first victory this season? Or will Jake Locker build on his opening day success and lead the Titans to its second consecutive victory? Read on for a complete preview of this matchup and while you're at it you can also check out our preview of the Denver vs. Kansas City game.
[sc:Football ]
Dallas Cowboys vs. Tennessee Titans Preview
When: Sunday, September 14, 1:00 PM ET
Where: LP Field, Tennessee
Line: Dallas Cowboys (+3.5) at Tennessee Titans (-3.5); total: 49.0 – view all NFL lines
Betting on the Dallas Cowboys
Dallas opened their 2014 NFL season on a sour note as a quick San Francisco start doomed the Cowboys to a 28-17 defeat last Sunday.
[sc:NFL240banner ]Quarterback Tony Romo had a miserable afternoon, throwing three first half interceptions as the 49ers quickly raced to a huge 28-3 halftime lead. In 109 career starts, this is the 11th time Romo has thrown three or more interceptions in a game. In those 11 games, the Cowboys are 1-10 with nine consecutive defeats.
Considering that the Cowboys' offense was supposed to be Dallas' saving grace this season, this result is pretty alarming. The one bright spot for the Cowboys was DeMarco Murray who rushed for 118 yards and a touchdown on 22 carries.
For once, though, the much-maligned Cowboys defense was not the main culprit in Dallas' defeat. Even with the fiery start, the 49ers finished with just 319 total yards and had only two legit touchdown drives. This can be considered a moral victory considering the Cowboys defense allowed 478 yards or more six times last year.
They shut out the 49ers in the second half as they allowed only 116 yards on 30 plays in the last two quarters. They will need to bring that same intensity on the defensive end this coming Sunday when they face the Tennessee Titans, who are coming off a morale-boosting opening-day victory over the Kansas City Chiefs.
They will have to avoid allowing big plays, though, which was one of their main problems last season. Last year, they allowed a league-leading 71 completions of 20 or more yards. Against the 49ers, they did it once again. Even though they limited the 49ers to 319 yards, 107 of those came on only four plays.
If they are to have a chance against the Titans though, the offense needs to step it up, particularly Romo. Dallas fans can take heart knowing that the Cowboys fare particularly well coming off a defeat. Since 2012, the Cowboys are 9-5 in games following a loss. Furthermore, the Cowboys are 5-2 in their last seven games against AFC South opponents.
Betting on the Tennessee Titans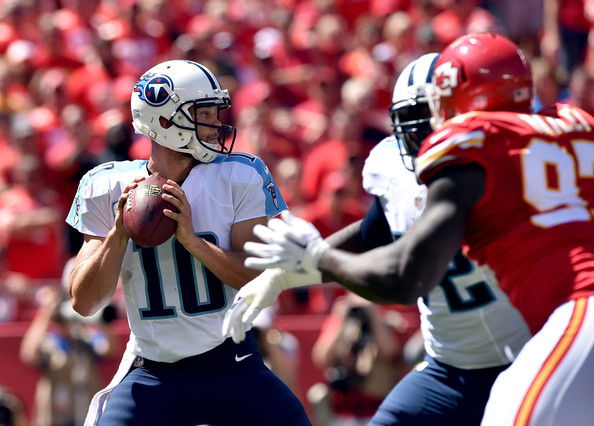 The Ken Whisenhunt era has finally begun for the Titans and it couldn't have gone much better. Tennessee steamrolled past the Kansas City Chiefs 26-10 in their 2014 season opener last Sunday.
Quarterback Jake Locker was solid as he completed 22-of-33 passes for 266 yards and two touchdowns. He connected with eight different players in an impressive balanced attack as he led the Titans to its 400th all-time regular season victory.
Although most of the headlines revolved around Locker's performance, it was the Titans defense that really was the main star. Debuting defensive coordinator Ray Horton's 3-4 scheme, the Titans were immense as they forced three interceptions, including two by cornerback Jason McCourty.
The defense also recorded four sacks as it limited the Chiefs to only one third down conversion in 12 tries. The Titans need to put that same kind of pressure when they host the Dallas Cowboys this coming Sunday.
Even though Romo completed 23-of-37 passes for 281 yards and a touchdown, he found it difficult in the early going against the 49ers as he threw three first half interceptions. After their tour-de-force performance against the Chiefs where they not only stopped QB Alex Smith but also running back Jamaal Charles, the Titans will be confident that they can easily handle the Cowboys offense as well.
The Titans will look to start their home campaign on the right note this time around after struggling at LP Field last year. They were only 3-5 last season in their eight home games.
Writer's Prediction
The Titans pile more misery on the Cowboys to preserve their unbeaten slate. Create a betting account now and cash in on the NFL games.
[sc:NFL490Banner ]
2,282 total views, 2 views today
Comments
comments