And so they meet again. The No. 3 Detroit Red Wings and No. 2 Tampa Bay Lightning went the distance—all seven games—in the quarterfinals of last year's Eastern Conference playoffs. It was the Lightning who eventually won that series, and you can bet that they'll be aiming to do so again. But of course, the revenge-seeking Red Wings won't let history repeat itself that easily.
It'll certainly be another entertaining series in the making, and now the question is: which team will deliver the first blow? Read on below for a comprehensive look at this series-opener.
For more NHL playoffs, click here for our preview of the Chicago Blackhawks and St. Louis Blues.
NHL News and Predictions
Detroit Red Wings vs. Tampa Bay Lightning Game 1 Preview
Where: Amalie Arena, Tampa, FL
When: Wednesday, April 13, 2016 7:00 PM ET
Line: Detroit Red Wings at Tampa Bay Lightning – view all NHL lines
TV Broadcast(s): NBCS, CBC, TVA
Betting on the Detroit Red Wings
Detroit managed to keep the longest active postseason streak among all major sports alive after receiving a little help from the Senators by a way of a 6-1 triumph over the Bruins. The Red Wings have now made their 25th-consecutive appearance in the playoffs and are preparing for a first-round series matchup with a very familiar foe in the form of Tampa Bay.
As mentioned earlier, this is a rematch of last year's opening-round bout, where the Lightning ended up winning the seven-game series. But now the storylines are a little bit different, and the odds are arguably on the Red Wings side, especially with Tampa Bay missing two of its key players in Steven Stamkos and Anton Stralman.
That said, look for the Red Wings to capitalize on this with their depth up front. Dylan Larkin, in particular, will likely lead the charge in doing so. He's had a sensational rookie campaign, racking up a total of 45 points (23 goals, 22 helpers). But it'll be interesting to see how he'll react to the pressure-cooker atmosphere of the postseason.
Of course, expect their other stars in Henrik Zetterberg and Pavel Datsyuk, who will officially retire after the playoffs, to try and wear down a short-handed Lightning squad. Both veterans lead Detroit in points with 99 combined.
Meanwhile, Jimmy Howard is expected to get the nod between the pipes. He ended the regular-season on a solid note, going 3-2-0 with a 2.37 GAA and .916 SV% in his last five games. The same could also be said about him against Tampa Bay, as Howard is 5-3-2 along with a 2.12 GAA and .929 SV% across 10 career starts.
Detroit is 3-7 SU and 6-2-2 OU in its previous 10 road games.
Betting on the Tampa Bay Lightning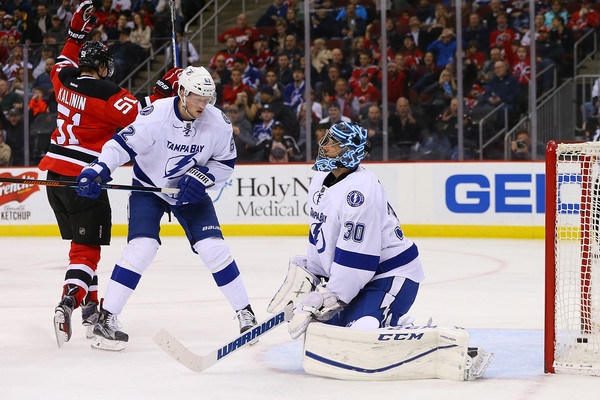 Despite entering this game without two key players, Tampa Bay should still have the upper hand over the Red Wings offensively.
Yes, the Lightning's top goal-scorer in Steven Stamkos is out, but they have another reliable option in Nikita Kucherov to serve as the team's go-to guy from now on. Kucherov has piled up a total of 66 points this season, with 30 of those points coming from goals. And across 28 playoff games, he has accumulated 11 goals and 11 helpers.
Other than Kucherov, the trio of Victor Hedman, Alex Killorn and Ondrej Palat should provide some more headaches to the opposition. All have had their share of good moments in the regular season.
Hedman carries a team-high 37 assists along with 10 goals. He also enters this game sizzling hot, as he's been able to score four goals in the past six games. Killorn and Palat, meanwhile, have delivered 40 points apiece this year.
Over on defense, Ben Bishop's huge 6-foot-7 frame will surely make it difficult for the Red Wings to score some goals. Throughout 14 career games (13 starts) in this matchup, he boasts a 9-4-0 record with a 1.71 GAA and .935 SV%.
Tampa Bay is 6-4 SU and 4-6 ATS in its last 10 home games.
Writer's Prediction
Tampa Bay wins, 3-1.
Create a betting account now and build a winning NHL parlay.

Comments
comments