The Green Bay Packers averted a dreaded 0-2 record to start the season after stealing a win on the road against the New York Jets. Through two weeks of football action, however, the Packers have yet to look like the contenders they were expected to be back in the offseason. The Detroit Lions, meanwhile, are coming off a deflating loss to the Carolina Panthers, and are needing a pick-me-up victory to keep in pace with the competitive NFC North, where all four teams have a 1-1 record after Week 2.
Read on for our complete preview of this matchup and while you're at it check out our previews of the other blockbuster games in Week 3 that include the Cowboys vs. Rams and Seahawks vs. Broncos games.
[sc:Football ]
Green Bay Packers vs. Detroit Lions Betting Preview and Prediction
Where: Ford Field, Detroit
When: Sunday, September 21, 1:00 PM ET
Line: Green Bay Packers (+1.5) at Detroit Lions (-1.5); total 52.0 – see all NFL lines
Betting on the Green Bay Packers
[sc:NFL240banner ]The Packers avoided disaster and embarrassment with their passing offense and defense on Sunday. Without any signs of Richard Sherman and company, who paralyzed Green Bay's offense in Week 1, Aaron Rodgers and his receiving targets were able to hook up consistently against the New York Jets to cue a come-from-behind 31-24 road win.
With Rodgers channeling his MVP form in Week 2 (346 yards and three touchdowns), however, the offense compensated for the team's defensive lapses as shown in their win over the Jets.
Rodgers is averaging 267.5 yards per game and has restored fans' confidence on the Packers' passing game when he and Jordy Nelson tore up New York's defense to pieces. Nelson recorded a career-high 209 receiving yards – 60.4% of the team's total yards – and a TD on nine catches. Expect more from the Rodgers-Nelson connection against the Lions, especially given Green Bay's running game hasn't found its groove yet, putting up just 80.0 yards a game thus far this season.
The Packers continue to struggle against the run. Green Bay was burned by the Seattle Seahawks for 207 rushing yards in Week 1, while the Jets were able to put up 146. Although the latter number was quite an improvement from what Seattle put up, the Packers' rushing defense obviously is far from Super-Bowl-contender form.
The Packers are 8-2 in their last 10 games against Detroit. They are also 5-1 ATS in the last six meetings with the team from Motor City.
Create a betting account now and cash in on NFL games.
Betting on the Detroit Lions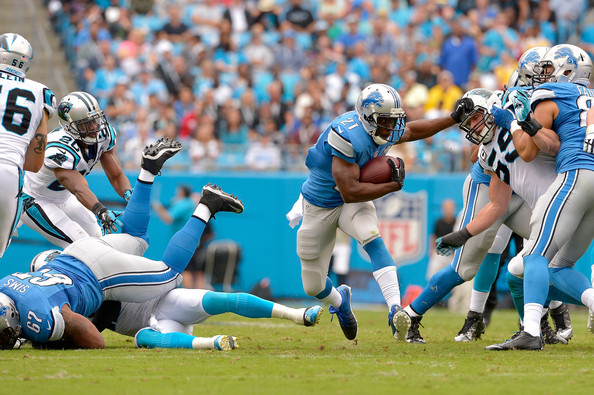 Detroit is not as adept rushing the ball as the Packers' previous two opponents are, but as mentioned above, the Packers have a weakness in their ground defense that the Lions could take advantage of.
Coach Jim Caldwell will have that in mind when Detroit plays its home opener on Sunday, a week after his team suffered its first setback of the season, dropping a disappointing 24-7 loss to the Carolina Panthers. Dating back to the 2012-2013 season, the Lions are 4-0 ATS in their last four home games against NFC North teams – the last one a 40-10 drubbing of Green Bay in Week 10 of last year.
While the Lions' passing game has provided the most action on offense thus far, the backfield pair of Joique Bell and Reggie Bush could see more success against the Packers, whose faulty rushing defense played a big role in their Week 1 loss and a near one the following week. Detroit hasn't earned more than 76 yards in any of its first two games, and next week's NFC North showdown has the makings for a breakout game for the team's rushers.
Matthew Stafford (291 passing yards, 1 TD, 1 INT vs. Carolina) and Calvin Johnson (83 receiving yards), who drove the New York Giants' defense nuts in Week 1, found it difficult to execute their plays against the Panthers. One reason for that is Carolina's success in removing Golden Tate (57 receiving yards) from the equation, which forced Stafford to target Johnson more – a very readable scenario for the Panthers' defense.
To free up Johnson and to some extent  Tate, rookie tight end Eric Ebron will have to sustain the quality he showed against the Panthers, where he caught three passes for 38 yards. An additional threat down the field would spread the Packers' secondary and create opportunities for the Lions' biggest names.
Writer's Prediction
The Lions recover from their bad loss in Week 2 and beat the Packers, covering –1.5.
[sc:NFL490Banner ]
1,939 total views, 1 views today
Comments
comments