---
Life's good when you're a professional baseball player. They get to stuff their wallets with millions while doing something they love. But among the spoils of being a major leaguer is the relative ease of attracting chicks. There are lots of them out there and ball players appear to get them like they're just catching popups.
We've compiled the hottest wives and girlfriends into a list. These are the women baseball players canoodle with when they want to get comforted after a loss. These are the bombshells these lucky pitchers and hitters go home to. Let's dive head first into the list, shall we?
---
MLB World Series News and Previews
---
Hottest WAGS of the 2017 MLB Season
10. Dallas Latos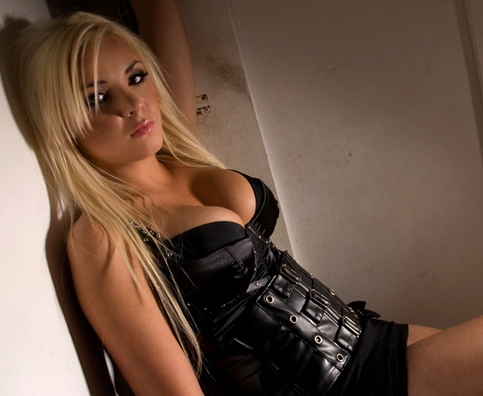 Mat Latos is in his eighth season in the big league, brandishing a career ERA of 3.61. That's not going to get him in the Hall of Fame but if there ever was a Cooperstown version of baseball players' wives and girlfriends, Latos' wife, Dallas, surely is going to be a first-ballot lock and her booty will be immortalized in a shiny sculpture of her booty—at least that's what we wish to see in the near future.
9. Alexandra Cooper
Thor sure has an eye for vixens that suits baseball gods.  The Mets ace is a strikeout machine on the mound but off it, he was the one struck by the looks of Alexandra Cooper, who is currently an intern at WHDH Channel 7 in Boston according to her LinkedIn page. If Cooper watched Mets games a year earlier, I'm pretty sure he'll be falling for a sexier New York pitcher with a better hair game named Bartolo Colon.
8. Brielle Biermann
Chicago White Sox prospect Michael Kopech has yet to play a single game in the majors but his girlfriend certainly belongs in the big league of WAGS. That's Brielle Biermann, daughter of The Real Housewives of Atlanta mainstay, Kim Zolciak.  While Kopech is still in the minors polishing his skills, Biermann appears to be on top of polishing Kopech's bat herself. Heck, they've been tounging and touching each other in public.
7. Marikym Hervieux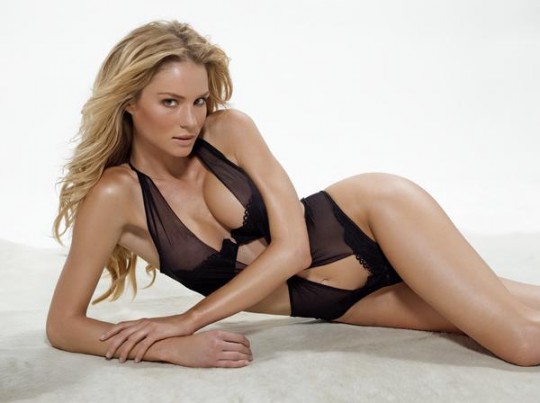 Marikym Hervieux met Russell Martin in a night club a long time ago and from that moment, she knew a BJ would complete her life. The current Blue Jay and former Dodger catcher has frequently noted in interviews how happy he's been since hooking up with Hervieux, a French-Canadian model who once appeared in Entourage. Martin said that he and Hervieux aren't planning having children though they're "practicing a lot. He might want to get as much practice in the batting cage considering he's hitting below .200 this season.
6. Chelsea Goff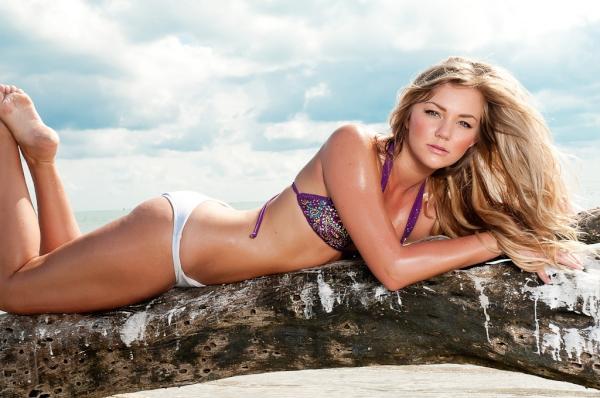 The Braves aren't going places this season, as not much is expected of the ball club that's in the midst of a rebuild. One bright spot for the team, though, is Freddie Freeman, who is off to hot start to this 2017 campaign. As of this writing, Freeman is batting .381 with seven home runs. Probably, that's what having a beautiful wife does to Freeman, who goes home to Chelsea Goff. Before marrying Freeman, Goff was a freelance model. She currently works as a realtor and it'll probably boost her sales if she tours potential male buyers while wearing just her bikinis.
5. Lauren Anderson
You won't find Reid Brignac on many baseball fantasy teams because he's a scrub. He's got just 12 home runs and a .219 batting average in 12 major league seasons and is presently playing for a minor league team called the Fresno Grizzlies. We'd rather draft his hot wife, former Playboy Playmate Lauren Anderson on our fantasies though.
4. Larisa Fraser
Larisa Fraser is the woman behind the success of Ryan Braun. She's also the same woman the Milwaukee slugger gets to sleep with all the time. Fraser was born in Canada and is working as a model. She appeared on TV series like CSI and her experience on that show might be helping her keep Braun, a proven cheater on the field, in check.
3. Jaime Edmondson
Evan Longoria definitely has himself a winner in Jaime Edmondson. Edmondson was a 2010 Playboy Playmate and two years later she married the Tampa Bay star third baseman. You might be surprised to know that this vixen was also a former police officer. While she no longer in the ranks, she's likely still putting those handcuffing skills to use. Right, Evan?
2. Adriana Lima
We know Matt Harvey's game. He's been with some absolute smokeshows in the past. Shannon Rusbuldt , Ashley Haas, and Anne Vyalitsyna were only some of the bombshells Harvey has dated before. But none of them were as big as super model Adriana Lima, whom Harvey was recently seen making out with.  Legend has it that Harvey was able to get Lima's number disguising as Bartolo Colon.
1. Kate Upton
When Justin Verlander isn't stepping on the mound, he's likely somewhere enjoying the mounds on Kate Upton's anatomy. Verlander's career hasn't been as great over the past few seasons but one consistent thing about him is Upton, who remains to be loyal even when his fastball velocity started to dip and his ERA begins to rise. Kate Upton, you the the real MVP.
Create a betting account now and build a winning MLB parlay.

16,080 total views, 3 views today
Comments
comments