The Indianapolis Colts found another way to shoot themselves in the foot in a 27-21 home loss to the New Orleans Saints on Sunday. Now they'll be hard-pressed for a victory in road game against the sizzling Carolina Panthers. The NFC South leaders added yet another win (over Philadelphia) to remain unbeaten through the first seven games of the season.
There are more heated inter-conference matchups this week. Check out our complete previews for the Lions vs. Chiefs and Packers vs. Broncos.
[sc:Football ]
Indianapolis Colts vs. Carolina Panthers Preview
Where: Bank of America Stadium, Charlotte
When: Monday, November 2, 8:30 PM ET
Line: Indianapolis Colts (+7) at Carolina Panthers (-7); total: 46.5 – view all NFL lines
TV Broadcast: ESPN
Betting on the Indianapolis Colts (3-4)
Andrew Luck was pressured into mistakes all day long. He was hit 10 times, sacked four times and was picked off twice. Luck almost single-handedly sunk the Indianapolis Colts in the first half of their 27-21 home loss to New Orleans. But he partially redeemed himself in the second half, throwing for three touchdowns for 21 unanswered points.
[sc:NFL240banner ]Luck finished the game 23 of 44 with 333 yards, including his three touchdowns and two interceptions. Wide receiver T.Y. Hilton was Luck's best weapon in the game, catching touchdown passes of 87 and 46 yards in the third quarter. He finished with 150 yards on four receptions. Donte Moncrief caught one of Luck's scoring passes as well, but finished with just four catches for 34 yards.
The Colts may be out of luck, though (pardon the pun), as they'll face Carolina's pretty stringent pass defense next. The Panthers are allowing just 229.8 yards passing per game, eighth in the league. Carolina also has the second-most interceptions (nine) in the league, which could give Indianapolis' signal caller headaches.
If the Colts are to win this game, they'll need to get going on the ground. They have the man to do so in running back Frank Gore. The Panthers are pretty mediocre in stopping the run, allowing 110 yards rushing per game and 4.3 yards per carry. The Colts had to abandon the running game as a result of falling behind 27-0 to the Saints in Week 7, but Gore's 43 yards on nine carries did look promising in limited action.
On the other side of the ball, the Colts could force Panthers quarterback Cam Newton into some costly turnovers. Newton just recently threw three interceptions in the victory over Philadelphia on Sunday night. Strong safety Mike Adams has a league-high four interceptions heading into this game, while cornerback Vontae Davis had his first pick of the season against the Saints to ignite some more fire into the Colts' secondary.
The Colts have lost six straight games to NFC South opponents, going 1-5 ATS.
Betting on the Carolina Panthers (6-0)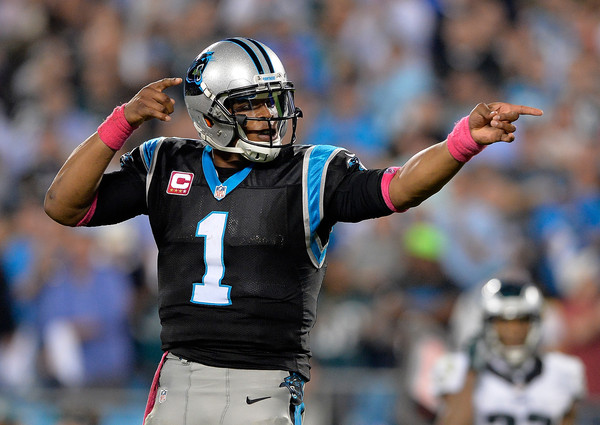 For the first time in NFL history, there are five 6-0 teams to start the season. The Carolina Panthers are one of them after a dominant defensive performance gave them a 27-16 victory over the Philadelphia Eagles at home. The Panthers play in Bank of America Stadium once again next Monday night, going against the disappointing Indianapolis Colts.
Quarterback Cam Newton was plagued with miscues in the passing game, passing for just 197 yards with a touchdown and three interceptions. But a solid running game from Jonathan Stewart saved the Panthers. Stewart ran for 125 yards on 24 carries, including a long 36-yarder in the team's first drive of the game. Even wide receiver Ted Ginn Jr. had a pretty big gain, speeding off for a long 43 yard run.
Newton also had a hand to play in the rushing game with 20 yards on four scrambles. He even scored on a two-yard run in the second quarter after fooling the Philadelphia defense on a read option with Stewart. Fullback Mike Tolbert also had a pretty big game, brushing off tacklers and carrying Eagles on his back for a two-yard scoring run. He also scored on a two-yard reception in the third quarter.
While Carolina's passing offense stalled against the Eagles, expect it to be on fire against a vulnerable Indianapolis side. The Colts are allowing 285.9 yards passing per game, fifth-worst in the NFL. They're also tied with three other teams in surrendering the fifth-most passing touchdowns (12) this season.
To take advantage of Indianapolis' patchy pass defense, the Panthers will need to get tight end Greg Olsen going. Olsen has been the Panthers' most reliable receiver with team-highs of 439 yards and three touchdowns.
On the other side of the ball, defensive tackle Kawann Short should have a favorable matchup against Indianapolis' offensive line, which allowed quarterback Andrew Luck to be sacked four times in Week 7. Short had three sacks against the Eagles on Sunday night.
The Panthers are 5-1 ATS this season.
Writer's Prediction
Carolina suffers its first loss of the season. Luck starts strong and finishes strong, powering the Colts to a much-needed victory. Create a betting account now and win big on all the thrilling matchups in the NFL.
[sc:NFL490Banner ]
2,048 total views, 1 views today
Comments
comments