The Jacksonville Jaguars are having problems closing out games after their 13th consecutive road loss Sunday afternoon against the New York Jets. The Baltimore Ravens may have trouble getting themselves going with stud receiver Steve Smith Sr. out for the season with a torn Achilles. It's going to be quite a fight as these two teams try to claw their ways out away from the AFC cellar.
Get some more NFL action with our complete previews for the Bills vs. Jets and Panthers vs. Titans.
[sc:Football ]
Jacksonville Jaguars vs. Baltimore Ravens Preview
Where: M&T Bank Stadium, Baltimore
When: Sunday, November 15, 1:00 PM ET
Line: Jacksonville Jaguars at Baltimore Ravens – view all NFL lines
TV Broadcast: CBS
Betting on the Jacksonville Jaguars
The Jacksonville Jaguars had a chance to win the game, but they shot themselves in the foot in the fourth quarter of a 28-23 loss to the New York Jets on Sunday. Punt returner Nick Marshall fumbled a Jets punt on Jacksonville's 25-yard line, setting up a go-ahead touchdown for the Jets. Quarterback Blake Bortles then threw his second interception of the game in the Jags' next possession, thus icing the game.
[sc:NFL240banner ]Bortles had a pretty big game outside of his two interceptions. Despite being sacked six times, the Jags quarterback threw for 381 yards and two touchdowns, including a long 20-yarder to receiver Bryan Walters. His receiving pair of Allen Hurns and Allen Robinson was spectacular. Hurns caught five passes for 122 yards and a score, while Robinson had six catches for 121 yards.
The Allen duo should be able to torch a Baltimore secondary, which has been horrible against the pass. The Ravens are allowing 283.9 yards passing per game and have allowed a total of 16 passing touchdowns. Baltimore has allowed 33 plays of 20-plus receiving yards this season, fifth-most in the league.
Running back T.J. Yeldon could give Jacksonville a nice change of pace. He rushed for 64 yards on 14 carries against the Jets on Sunday. Before that, Yeldon had a nice breakout against Buffalo with a career-high 115 yards and a score on 20 carries at London in Week 7. He has now rushed for 4.6 yards per carry or more in consecutive games.
On the other side of the ball, the Jaguars have made it rough against opposing quarterbacks. Chris Clemons and Jared Odrick each had a sack against the Jets. Clemons added to QB hits and Odrick had one. Getting the same type of pressure may be difficult against the Ravens. Baltimore has been solid in pass protection, ranking 13th in the league with 14 sacks allowed.
The Jags are 4-2 ATS in their last six on the road dating back to last season.
Betting on the Baltimore Ravens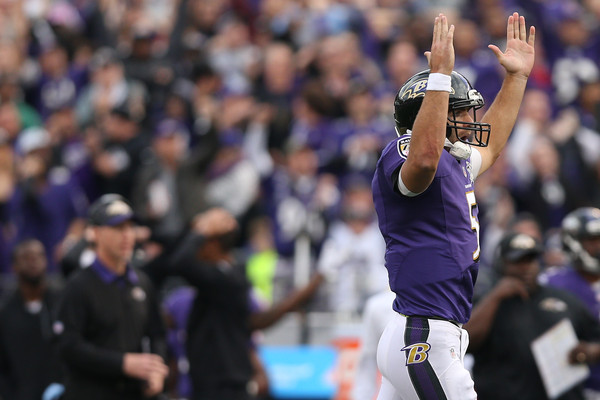 The Baltimore Ravens were on the verge of making the AFC Championship Game last postseason. They're barely struggling to keep out of last place in AFC North this time around. The Ravens are coming off a much-needed bye week, in which quarterback Joe Flacco looked to create some chemistry with his wide receivers now with leading receiver Steve Smith Sr. now out for the season.
The Ravens' receiving corps is now made up of less-than-stellar talent. Kamar Aiken, who figures to lead the group, has just one more touchdown (five) than the teams he's played for since 2011 (four). Marlon Brown hasn't hauled in a scoring pass in 22 consecutive regular season games. Chris Givens came from the league's worst passing offense (St. Louis), while Jeremy Butler is yet to play a snap after being undrafted.
Nevertheless, Aiken should be good enough to be the Ravens' No. 1 receiver against Jacksonville. The Jags have allowed 263.5 yards passing per game, 25th in the league this season. Catching passes from quarterback Joe Flacco should help. Flacco passed for 319 yards and a touchdown in Week 8 prior to the bye week. He has four games with 300-plus yards passing this season.
The Jags have made opposing quarterbacks look good this season. Signal callers are averaging a 99.9 passer rating against Jacksonville, eighth in the league.
If the Ravens can't get their passing game going, then they can always rely on their running game care of Justin Forsett. The Baltimore running back is yet to rush for over 69 yards in his last three games. The bye week should have him well-rested enough for this game. But Forsett should be prepared to go against a pretty tough Jacksonville front seven, which has been solid against the run this season (94.2 yards allowed per game).
The Ravens are 0-6 ATS in their last six at home.
Writer's Prediction
The Jags pile even more misery on Baltimore in a big road upset. Create a betting account now and get in on the thrilling NFL action while it lasts.
[sc:NFL490banner ]
2,166 total views, 1 views today
Comments
comments