With the playoffs out of reach and a losing season in the bag, the Falcons could use a huge upset win over San Francisco in their otherwise horrific season. Don't expect the 49ers to be lulled by Atlanta's underdog aura as San Francisco is bent on securing a playoff spot Monday night.
NFL Football Betting Preview: Falcons vs. 49ers
Game Details:
When: 8:30 PM ET, December 23, 2013 [sc:NFL240banner ]
Where: Candlestick Park, San Francisco, California
Odds:
*As of December 17.
Money: Falcons (TBA) vs. 49ers (TBA)
Spread: Falcons (+12.5) vs. 49ers (-12.5)
Totals: 45.0
Betting on the Atlanta Falcons:
A week after losing a one-point game to Green Bay, the Falcons reversed their fortunes by carving out a 27-26 win over the beleaguered Redskins in Week 15. It was Atlanta's second win in three games, bringing its record to a more respectable 4-10 SU.
The Falcons' last three wins were against sub-.500 teams. Touted as one of the top contenders in the NFC before the season began, Atlanta betrayed high expectations by starting with a 1-5 SU record.
With the season in malady, the rookies of the Falcons have offered fans a glimpse of what could be in store for the team next season. Against Washington last week, rookie Desmond Trufant tipped a pass by Kirk Cousins in the last seconds to help Atlanta preserve the win. He was one of five rookies to start that game on the defensive side.
With the help of their defense, the Falcons were able to feast on the seven turnovers committed by the Redskins, scoring 20 points off of them.
Atlanta has been improving their play as evidenced in part by their 3-1 ATS record in their last 3 games.
Bet now on the Atlanta Falcons.
Betting on the San Francisco 49ers: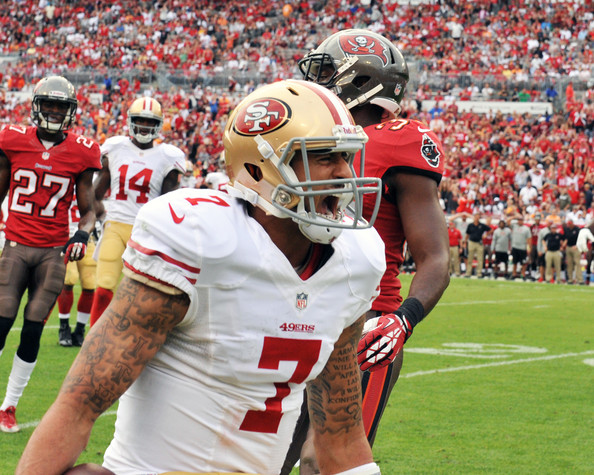 The way the 49ers have been playing recently, Colin Kaepernick and the rest of the team could be on their way to returning to the Super Bowl.  They can take a step closer to that goal with a win at home against the visiting Falcons. A victory would clinch the 49ers a playoff berth. [sc:NFL240banner ]
The return of Michael Crabtree has been paying dividends for the 49ers. San Francisco's passing game lags behind in the league with much of their offense being generated by their fifth-ranked rushing game (137.1 per game).
Overall, San Francisco is last in the NFL in pass completions (15.0 per game), but in the last three games,  they've jumped to 17.7 completions per game – in synch with the Crabtree's return.
That's just one of the palpable improvements seen in the team's passing game. Since Crabtree's comeback, the 49ers also added around 20 yards through the air per game average, from 179.1 to 199.7.
San Francisco is 4-1 SU in its last 4 games.
Bet now on the San Francisco 49ers.
[EPSB]
[/EPSB]
1,906 total views, 1 views today
Comments
comments