The New England Patriots have been the undisputed rulers of the AFC East for well over a decade. But with Tom Brady potentially suspended for the first four games of the season and some key contributors in last year's Super Bowl success gone, the defending champions are suddenly looking a little vulnerable.
After making some big changes during the offseason, can the Miami Dolphins, New York Jets and Buffalo Bills finally capitalize and knock the Pats off their perch atop the division? Read on as we preview the win totals for each team in the AFC East. Meanwhile, check out more division-by-division win total previews, starting with the NFC North and NFC West.
[sc:Football ]
2015 NFL AFC East Regular Season Wins Preview
New England Patriots
2014 Record: 12-4
Over/Under Wins: TBA – view all NFL regular season win totals
The New England Patriots are still awaiting Roger Goodell's ruling on Tom Brady's appeal, which could still see Brady's four-game suspension for the "Deflategate" scandal reduced or even overturned.
[sc:NFL240banner ]Until then, the Pats' starting quarterback remains suspended for the first four games of the season. Second-year QB Jimmy Garoppolo is in line to start in Week 1 against the Steelers, as well as in tough road games against the Bills (Week 2) and Cowboys (Week 5).
Those two games are just part of the defending champs' rough road schedule this season. Four of their five non-division road opponents (Dallas, Indianapolis, Denver and Houston) won nine games or more last season, while the Bills and Dolphins were also .500 or better.
But even with Brady's possible suspension and the loss of star corner Darrelle Revis among others, it's never a good idea to bet against the Patriots, a team which has won 11 or more games in 11 of the last 14 seasons under head coach Bill Belichick. They famously had one of those 11-win seasons with Matt Cassel starting for an injured Brady.
The Pats have won 11 of the last 12 AFC East titles, and are -210 to continue their dominance over the division this season.
Prediction: Pats win 11 games
Miami Dolphins
2014 Record: 8-8
Over/Under Wins: 9.0 – view all NFL regular season win totals
The Miami Dolphins made the biggest splash in free agency by signing superstar defensive tackle Ndamukong Suh to a record-breaking deal. Suh's signing will look to shore up a Dolphins defense which showed promise, but eventually fell off a cliff last season. It went from being ranked No. 2 via DVOA in Week 9 to No. 17 at the end of the year.
The Dolphins also locked up quarterback Ryan Tannehill to a long-term deal after he continued to show improvement in Year 3. He'll have a brand new receiving corps to work with after the Fins drafted DeVante Parker and acquired Greg Jennings, Kenny Stills and Jordan Cameron.
Three of the Dolphins' first six games will be very winnable road games against Washington, Jacksonville and Tennessee. Meanwhile, they will be at home for tricky tests against Houston, Dallas, Baltimore, the Giants and Indianapolis.
Miami hasn't had a winning season since going 11-5 to win the division back in 2008, but the addition of Suh and the continued growth of Tannehill should see them rise ever so slightly back above .500.
Prediction: PUSH 9.0 wins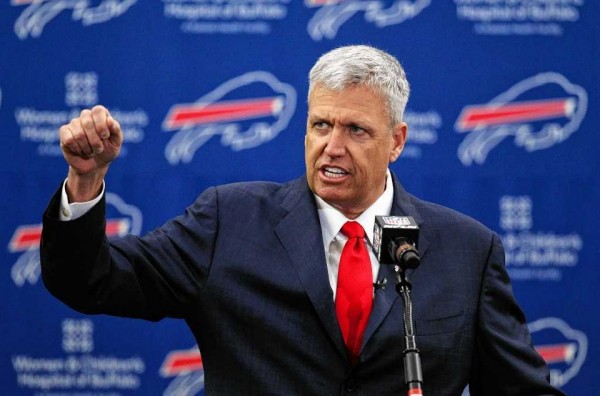 Buffalo Bills
2014 Record: 9-7
Over/Under Wins: 8.5 – view all NFL regular season win totals
Doug Marrone led the Bills to their first winning season since 2004 last year, but it'll be up to new head coach Rex Ryan to build off that success in 2015. Ryan is a defensive genius who will relish the chance to coach a brilliant Bills defense that finished second only to the Seattle Seahawks in defensive efficiency via DVOA.
But even with the addition of running back LeSean McCoy as another skill position weapon besides wide receiver Sammy Watkins, there are still major question marks with their offense, most glaringly at quarterback.
EJ Manuel, Matt Cassel and Tyrod Taylor are all back-up level quarterbacks jockeying for the starting spot this year. The eventual starter will also have the (dis)pleasure of playing behind an underwhelming offensive line.
The Bills will be tested right away with tough games against Indy, New England, at Miami and the Giants in the first four weeks. But with the lack of a viable starting quarterback in their roster, it's highly unlikely that they pass those tests and go on to match last year's winning record.
Prediction: UNDER 8.5 wins
New York Jets
2014 Record: 4-12
Over/Under Wins: 7.5 – view all NFL regular season win totals
After a disappointing 2014, the New York Jets really got busy this offseason. They brought back Darrelle Revis along with Antonio Cromartie and Buster Skrine to strengthen the secondary. They drafted USC stud Leonard Williams, who will fill in nicely for the suspended Sheldon Richardson for the first four games of the season. They also upgraded at receiver with Brandon Marshall and Ohio State speedster Devin Smith.
But one position where they didn't upgrade was at quarterback. New head coach Todd Bowles and offensive coordinator Chan Gailey have long named Geno Smith the starter, a move which doesn't inspire much confidence given Smith's dismal 35 QBR in each of his first two seasons.
The revamped Jets will have the benefit of playing four of the five worst teams in the league last season (Tennessee, at Oakland, Jacksonville and Washington). But much like the Bills, poor quarterback play will hold the Jets and their dominant defense back, especially with tough road games against Indianapolis, Houston, and Dallas on top of two games against New England.
Prediction: UNDER 7.5 wins
Writer's Prediction
The Pats go 11-5 ad win yet another division crown. The Dolphins finish second at 9-7. The Bills take a step back and go 7-9 while the Jets take a slight step forward at 6-10. Create a betting account now and take a step in the right direction with America's top sportsbook.
[sc:NFL490Banner ]
2,024 total views, 1 views today
Comments
comments