We're back! Seven months after the lights went off in Super Bowl XLVIII, the National Football League is off and running once again and a string of high-profile match-ups in its opening week will certainly whet the appetites of football fans across the world.
One of the marquee games in Week 1 is the clash between the San Francisco 49ers and the Dallas Cowboys. Both teams have question marks surrounding their respective defenses ahead of the start of the new season and franchise quarterbacks Tony Romo and Colin Kaepernick should be well positioned to take advantage of that situation.
Read on for an analysis of this opening week match-up as the 17-week regular season finally gets underway. Meanwhile, you can check out our regular season record predictions for all 32 teams as we head into an exciting 2014 NFL season.
[sc:Football ]
San Francisco 49ers vs. Dallas Cowboys (4:25 PM ET)
Where: AT&T Stadium, Dallas, Texas
When: Sunday, September 7, 4:25 PM ET
Line: San Francisco 49ers (-6) at Dallas Cowboys (+6) – see all NFL lines
Betting on the San Francisco 49ers
With just a week remaining before the start of the NFL season, there are concerns surrounding the San Francisco 49ers' much-heralded defense.
[sc:NFL240banner ]Even though they pulled off a 21-7 preseason victory over the San Diego Chargers last Sunday that gave them their first win of the preseason, their secondary defense once again had difficulty stopping the opposing team's starting quarterback.
Chargers quarterback Philip Rivers completed his first five passes and finished 9 of 10 for 85 yards and a touchdown against San Fran. The week before, Broncos QB Peyton Manning went 12 of 14 for 102 yards and a touchdown with a passer rating of 120.8 while his backup Brock Osweiler had a solid outing as well going 10 of 13 for 105 yards and a touchdown with an even better passer rating of 125.5.
So what's causing the problem for one of the most dominant defensive teams in recent memory?
Inside linebacker NaVorro Bowman is expected to miss at least the first half of the regular season as he recovers from a torn ACL. Outside linebacker Aldon Smith is still awaiting his fate from Commissioner Roger Goodell about his possible suspension concerning off-the-field incidents but reports have been circulating that he may be suspended for eight games. And then their prized free agent signing safety Antoine Bethea went down with a concussion in their preseason game against the Denver Broncos.
With the departures of safety Donte Whitner and cornerbacks Carlos Rogers and Tarell Brown this past offseason, it will be a tall task for defensive coordinator Vic Fangio to keep this unit in top form. But if there's one man who can turn around the fortunes of the 49ers' defense it is Fangio who has masterminded the 49ers' rise to being one of the top 5 teams in the league defensively the past three years.
And there has been some noticeable improvement so far. After being outscored 57-3 in their opening two preseason games, they limited the Chargers to only seven points in their Week 3 preseason encounter. Still, the onus will be on QB Colin Kaepernick to carry the load for the 49ers at the start of the season while their key defensive players are still out.
Kaepernick, who signed a $114 million contract extension this past offseason, has gone just 12-of-22 this preseason for 115 yards and no touchdowns. That's a disappointing 54.6 percent completion rate with just a measly 5.23 yard per attempt output.
Not all of the blame should be assigned to Kaepernick however. The 49ers' offensive line was downright horrible against the Chargers as they had major problems protecting Kaepernick. The 49ers' starting QB was hit hard four times in three first-quarter series' against the Chargers.
Fortunately for Kaepernick, he will be facing a Cowboys defense that is having serious problems of its own. The Cowboys allowed 200 rushing yards in a loss to the Miami Dolphins last Saturday and that will be music to the ears of Kaepernick who had 524 rushing yards for the 49ers last season.
It will be interesting to see if the 49ers can translate their excellent road form last season as well. In their last ten away games, the 49ers are 8-2 SU including two wins on the road against Green Bay and Carolina in the playoffs last year.
Create a betting account now and get settled in: the NFL is here.
Betting on the Dallas Cowboys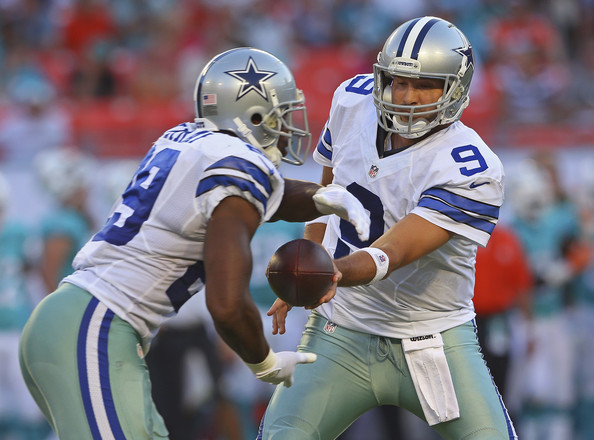 The main talking point for the Dallas Cowboys heading into the new season revolved around their quarterback Tony Romo and his surgically-repaired back. Already advancing in age at 34 years old, there were plenty of questions surrounding Romo and whether he can still handle the weekly strain of competitive football.
It's too early to tell if Romo's body will hold up but so far this preseason, the Cowboys QB has already proven that he can still absorb a hit. In their preseason game against the Dolphins last Saturday, Romo was sacked three times during the first half and though some may see that as a bad thing, Romo had a very different view point.
"I took some hits and that was good, just in regard to you get back up and keep playing," Romo said in the visitor's locker room at Sun Life Stadium after the game. "That part of it was positive. Hits in general, you know, we can avoid. But it was good to kind of get back up, just keep going, feel how it felt and go play football."
Romo's health is of particular importance to the Cowboys who may have to rely on their offense once again to get by this season. The Cowboys were horrible defensively last season ranking last in the league in the total defense department, allowing 415 yards and 27 points per game. Unfortunately for Cowboys fans, it shows no signs of improving this season and in fact, it looks like their defense is getting worse.
Some of their defensive stalwarts last season left via free agency. Pass rushers DeMarcus Ware and Jason Hatcher are gone with Ware going to Denver after being released by the Cowboys and Hatcher leaving for Washington. Linebacker Sean Lee will be out for the season after suffering a knee injury during an offseason practice and cornerback Orlando Scandrick will also be out for the first four games of the season for testing positive for a banned performance-enhancing substance.
One thing going for them is their recent home form. They are 6-4 SU in their last ten games at Dallas. Also they have won four of their last five games against the 49ers with the Cowboys pulling off a tight 27-24 victory in their last encounter back in September 18, 2011.
In fact, in that game, Romo showed his competitive spirit as he returned mid-game after suffering a broken rib earlier on. Even with the injury, Romo threw for 345 yards, 201 of those post-injury, as he inspired the Cowboys to a famous overtime win.
Writer's Prediction
Kaepernick and the 49ers (-6) will dominate a struggling Cowboys defense and record an easy win.
[sc:NFL490Banner ]
2,122 total views, 1 views today
Comments
comments