The Stanford Cardinal had a couple of firsts last season. Aside from the fact that they came up short in winning 11 games for the first time since David Shaw took over as their head coach in 2011, the Cardinal also did not have a 1,000-yard rusher for the first time in eight years. That being said, Stanford 's 2014 season ended with a lot of promise. Will the Cardinal reclaim their throne in the Pac-12 in 2015?
Read on for an overview of Stanford's key player this coming season along with the team's key game, best/worst scenarios and a complete list of the Cardinal's 2015-2016 schedule.
For more about college football, click here for a preview of Ohio State's season and here for the early Heisman Trophy candidates.
[sc:NCAAFArticles ]
2015-2016 Stanford College Football Preview
Overview
[sc:NCAA240banner ]After losing back-to-back games against ranked teams in November of last year, Stanford rebounded well by stitching together three-straight wins against California, UCLA, and Maryland, respectively, to finish an otherwise frustrating season with aplomb. Stanford was known more for its defense last season than its offense, but that late-season win streak pushed the Cardinal, led by quarterback Kevin Hogan, up to 38.0 points per game—much better than their 2014 average of only 27.2 PPG.
This coming season, the Cardinal are hoping that Hogan can take up where he left off. That may just be the case for the senior, as the Cardinal get back eight starters on offense, including four offensive linemen and a sprinkle of experienced position players. With an imposing O-line in tow, the backfield also looks primed for improvement. Last season, Stanford finished 72nd in the nation in rushing yards (158.77 per game) with Remound Wright leading the team (601 rushing yards and 11 touchdowns).
As for the team's defense, the likes of Aziz Shittu and Harrison Phillips will have to anchor a defensive unit that will feature a boatload of newcomers.
Key Player – Aziz Shittu
Defense was king for Stanford in 2014, as the Cardinals ranked second in the nation in scoring defense (16.4 point allowed per game), seventh in rushing defense (104.46 yards allowed per game), and eighth in passing defense (177.9). But with key losses over the offseason—only two starters from last year return—the Cardinal's defense is now under question.
Someone needs to step up and fill the roles left behind by some of last year's defensive standouts. Aziz Shittu, a senior, may be one of those guys that will have to change positions to prop up the Cardinal's D. Listed as a defensive end, Shittu is expected to provide depth in the nose tackle position.
With David Parry's departure, it's hard to imagine Stanford having the same success it had last season, especially up front, by relying mostly on sophomores Harrison Phillips and Solomon Thomas. Shittu's presence in the interior should help quell some of those fears about a major decline on defense.
Key Game – vs. Oregon (Nov. 14)
The last time Stanford met Oregon, Marcus Mariota made a mockery of what was then considered as one of the best defenses in the nation, leading the Ducks to a soul-crushing 45-16 victory. If that's not enough motivation for Stanford, then the Cardinal can also consider that the winner of this matchup has also copped the last five conference championships. Stanford is priced +300 to win the Pac-12.
Create a betting account now and cash in on the upcoming college football season.
Best/Worst Case Scenario for the Season
Best Case Scenario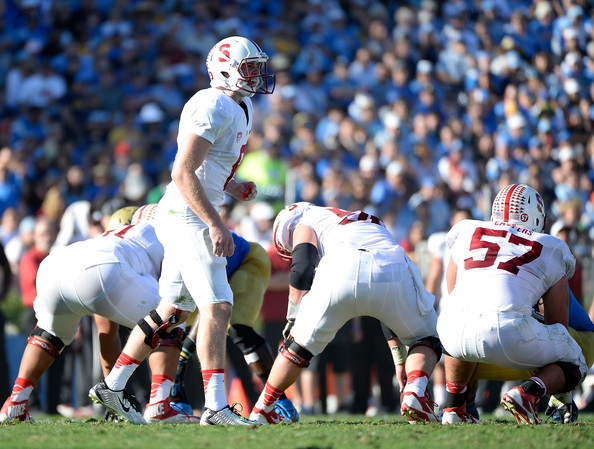 Unlike last season, the offense stars for Stanford this time around. Hogan proves that his late-season excellence in 2014 was less of a fluke and more of a precedent for good things to come. Wide receiver Devon Cajuste, who becomes Hogan's main option after Ty Montgomery, reaches 1,000 receiving yards. Wright, meanwhile, benefits from a strong offensive line and makes sure that Stanford won't have back-to-back seasons without a 1,000-yard rusher. The defense is decent at best, enough to help Stanford get an 11-2 overall record and an 8-1 conference slate.
Worst Case Scenario
The defense falls flat in its face, as the Cardinal realize that the offseason losses massively outweigh the talent of those players left behind. Hogan finds life hard without Montgomery and fails to maximize a receiving corps that features three of last season's top four pass-catchers. In the end, Shaw sees his team register  frustrating 7-6 and 5-4 overall and conference records, respectively.
Complete Schedule
| DATE | OPPONENT | TIME |
| --- | --- | --- |
| Saturday, Sept 5 | @Northwestern | 12:00 PM ET |
| Saturday, Sept 12 | vs UCF | 10:30 PM ET |
| Saturday, Sept 19 | @USC | 8:00 PM ET |
| Friday, Sept 25 | @Oregon State | 10:00 PM ET |
| Saturday, Oct 3 | vs Arizona | TBD |
| Thursday, Oct 15 | vs UCLA | 10:30 PM ET |
| Saturday, Oct 24 | vs Washington | TBD |
| Saturday, Oct 31 | @Washington State | TBD |
| Saturday, Nov 7 | @Colorado | TBD |
| Saturday, Nov 14 | vs Oregon | TBD |
| Saturday, Nov 21 | vs Cal | TBD |
| Saturday, November 28 | vs Notre Dame | TBD |
Writer's Prediction
Stanford finishes the regular season with a 9-4 overall record (6-3 in Pac-12) and earns a trip to a non-CFP bowl game.
[sc:NCAA490banner ]
1,956 total views, 1 views today
Comments
comments