First Football Season:
University of Alabama law student William G. Little learned how to play American football while attending prep school in Andover, Massachusetts and began teaching the sport to fellow Alabama students in early 1892.
Alabama's first game was played in Birmingham on Friday afternoon, Nov. 11, 1892, at the old Lakeview Park.  The opposition was furnished by a picked team from high schools in the Birmingham area, with Alabama winning, 56-0.
The Name:
At an Alabama-Auburn game in 1907, the "Thin Red Line" (their name at the time) played a great game in the red mud and held Auburn to a 6-6 tie, in which Hugh Roberts, a former sports editor of the Birmingham Age-Herald, described Alabama's performance as a "Crimson Tide."
Conferences:
SEC, Southern
The Home Field:
Bryant–Denny Stadium (1929-present), capacity – 101,821
The Championships:
National Championships:  15 (1925, 1926, 1930, 1934, 1941, 1961, 1964, 1965, 1973, 1978, 1979, 1992, 2009, 2011, 2012)
Conference Championships: 27
Bowl Appearances: 60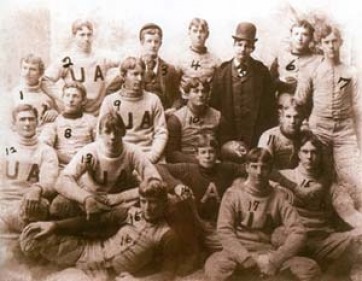 2013 Alabama Schedule:
See the latest betting odds and lines of the Crimson Tide by visiting Top Bet Sportsbook.
August 31 vs. Virginia Tech
September 14 at Texas A&M
September 21 vs. Colorado State
September 28 vs. Ole Miss
October 5 vs. Georgia State
October 12 at Kentucky
October 19 vs. Arkansas
October 26 vs. Tennessee
November 9 vs. LSU
November 16 at Mississippi State
November 23 vs. Chattanooga
November 30 at Auburn
Tune in to Top Bet Sports News for more on the Alabama Crimson Tide updates and news this 2013 College Football season.
[sc:AlabamaArticles ]
2,629 total views, 1 views today
Comments
comments