And that's a wrap on the 2014 NFL Preseason! Next stop, Week 1 of the regular season, beginning with the Seahawks vs. Packers. Check out our preview of that curtain-raiser here. But before going into full opening kickoff prep mode, let's first take a step back and review the preseason that was and how it will affect the first round of games.
In particular, we look at how the rookies performed, who got injured, how the new coaches are setting up their teams, especially those with looming suspensions early in the year.
Don't forget to check out our complete Week 1 spread picks, and read on for a quick look back at the NFL preseason that was.
[sc:Football ]
2014 NFL Preseason Recap
The Rooks
Unsurprisingly, an inordinate amount of attention was given to Cleveland Browns quarterback Johnny Manziel this preseason. Most of it was due to his prolonged battle with Brian Hoyer for the starting quarterback spot, which he ultimately lost because of his unconvincing play.
[sc:NFL240banner ]But some of it was just because Johnny Football is something of a controversy magnet, which he attracted in droves after flipping the bird towards the Redskins' bench.
Unlike Manziel, No. 3 overall pick Blake Bortles made headlines with his outstanding play for the Jaguars. Bortles appeared in all four preseason games, going 32-for-51 for 435 yards and two touchdowns. Despite the Jaguars announcing veteran Chad Henne as their starter for Week 1, Bortles' outstanding performance has put pressure on head coach Gus Bradley to make a move should Henne falter.
Texans fans won't have to wait as long to see No. 1 overall pick Jadeveon Clowney in action. Clowney has already been producing the highlight reel plays that made him the consensus top pick in the 2014 NFL Draft. From lightning quick sacks to run-stuffing tackles for loss, Clowney is primed to be a breakout stud in just his rookie year.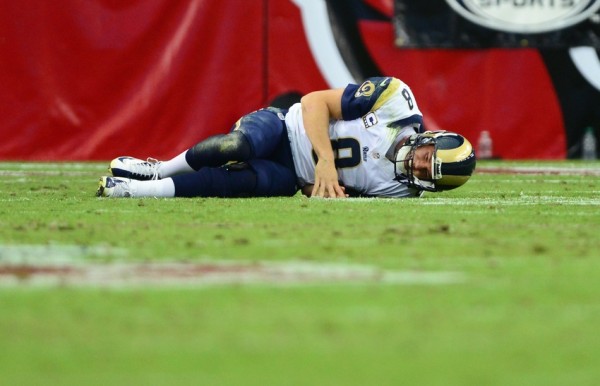 Injuries
Unfortunately, one of the stud rookies most people were excited to see was too busy getting banged up in preseason. Sammy Watkins bruised his ribs in the Buffalo Bills' game against the Pittsburgh Steelers, which caused him to sit out in the preseason's Week 3 against Tampa Bay.
Head coach Doug Marrone opted to play him in their final game against Detroit, perhaps in order to get him ready for Week 1. But that plan backfired as Watkins reinjured his ribs, putting his debut against the Bears, where the Bills are +6 underdogs, in doubt.
Speaking of ribs, it has been revealed that Carolina Panthers quarterback Cam Newton has a hairline fracture in one of his ribs. Newton's injury is just one more piece of bad news for the Panthers, who are nowhere to be found in experts' predictions to win the NFC South again this year.
But while broken ribs are painful, they're nowhere near as excruciating as what the Rams experienced in losing quarterback Sam Bradford for the season to yet another torn ACL. With all due respect to new starter Shaun Hill, not a ton of people will be buying the Rams to go over 6.5 wins without Bradford, especially in a division as fierce as the NFC West.
New Coaches
A couple new head coaches were put on the spotlight for their handling of their respective quarterback situations. The Browns' Mike Pettine didn't receive the most glowing marks for how he played the Manziel-Hoyer battle, which Hoyer eventually won.
But up in Minnesota, Mike Zimmer was lauded by how he eventually chose his starting quarterback. Despite drafting Teddy Bridgewater at the end of the first round, Zimmer was all but decided that veteran Matt Cassel would start Week 1 against the Rams.
Over in Tennessee, noted quarterback whisperer Ken Whisenhunt is slowly but surely working his magic on the Titans' Jake Locker and the entire offense as a whole. There's growing optimism that after years of boring offense, the Titans may actually be fun to watch this year.
Lovie Smith is also applying his forte of defense to the Tampa Bay Buccaneers. The Bucs already possess a talented defense that was an imposing unit last year, but Smith's tutelage may just bring them to another level.
Bracing for Suspensions
It seemed like a weekly occurrence during the offseason that some new NFL player was being slapped with a drug/conduct-related suspension. The most high-profile cases were Browns receiver Josh Gordon's season-long ban and Ravens running back Ray Rice's two-game ban.
To recap: hit your wife, miss two games. Smoke weed, miss a season. Ah, the NFL.
The Colts' Robert Mathis is one of a several four-game ban recipients for drug violations and the hammer is about to drop for the 49ers' Aldon Smith any time now for his past off-the-field transgressions.
The preseason got a chance to see the stand-ins for these suspended stars in action. The Browns' Andre Hawkins, who is slated to start in place of Gordon, was decent with eight catches for 76 yards and a touchdown. The Ravens' Bernard Pierce also did well, but suffered a mild concussion and his playing status for Week 1 is unknown.
Bjoern Werner got most of the burn for the Colts in place of Mathis, while the Niners may opt to replace Smith by committee, with the likes of Dan Skuta, Corey Lemonier, Aaron Lynch, and Chase Thomas possibly called upon to play.
The time for preparation is just about over; it's now time to go out and win. Create a betting account today and use your knowledge of the NFL's hell-ish preseason schedule to cash in big in 2014.
[sc:NFL490Banner ]
1,916 total views, 1 views today
Comments
comments