The big BCS bowls — the Sugar, Orange, Fiesta and Rose Bowls and the National Championship Game — will all get the most attention, and rightfully so. The teams involved in those bowl games are some of the best  in college football this year. But it would be silly to think that these five games will have a monopoly on the action.
The odds dictate that at least a handful of the 31 other non-BCS bowl games will produce something incredible, and we tend to agree. These five match-ups in particular seem to each have the makings of an exciting game, and fans and bettors shouldn't miss them.
Read More 2013-2014 College Bowl Previews
Bet on these 2013-2014 College Bowl Games
*All odds as of December 12, 2013.
1. San Diego County CU Poinsettia Bowl: N. Illinois (-1.5) vs. Utah State (+1.5)
Thursday, December 26, 9:30 PM ET
The participants of the San Diego County CU Poinsettia Bowl – Northern Illinois (12-1) and Utah State (8-5) – won't exactly be fielding household names, but by far the biggest name involved is Northern Illinois' Jordan Lynch. [sc:NCAA240banner ]
One of this year's Heisman finalists, Lynch – who had a very Tim Tebow-esque 23 passing TDs and 22 rushing TDs (3rd in FBS) – was mainly responsible for the unheralded Huskies ranking 8th in the nation in scoring (41.6 points/game).
In stark contrast, the Aggies of the Mountain West Conference have no such transcendent offensive force. Instead, they have a collectively great defense, one that can conceivably keep Lynch out of the end zone. Utah State is ranked 7th in the FBS in scoring defense.
2. AT&T Cotton Bowl: Missouri (-1) vs. Oklahoma State (+1)
Friday, January 3, 7:30 PM ET
Missouri (11-2) eventually fell to Auburn in the SEC Championship Game. However, the Tigers were trading scores with the champs up until the fourth quarter. Their Sugar Bowl dreams went up in smoke with that loss, but the Cotton Bowl is a decent consolation prize. Mizzou ranked 3rd in the SEC in scoring (39.0 points/game) and the Tigers running game trailed only Auburn with 236 rushing yards per game.
But Baylor offense is arguably even more potent than Mizzou's, and Oklahoma State (10-2) held the Bears to just three points in three quarters en route to a season-low 17 points. That's just a sampling of what the Cowboys defense — the best scoring defense in the Big 12 (20.0 points per game), as well as the 2nd best rushing defense (132.92 yards/game) — can do.
3. Capital One Bowl: South Carolina (+1) vs. Wisconsin (-1)
Wednesday, January 1, 1:00 PM ET
South Carolina (10-2) ended the season on a high, winning their last five games, including victories against two teams ranked in the top five. They walloped Coast Carolina 70-10 in their penultimate game before recording a convincing 31-17 victory over Clemson in the Palmetto Bowl — a great build-up to their Capital One Bowl clash with Wisconsin. The Gamecocks were ranked 2nd in the SEC in rushing defense (142.25 yards/game) during the regular season. [sc:NCAA240banner ]
Jadaveon Clowney and the rest of the Gamecocks better prepare to chase some Badgers, because Wisconsin is 8th in the entire nation in rushing offense (283 yards/game). That running game must be on point for Wisconsin, unlike during their games against Ohio State and Penn State. The Badgers averaged only 112 yards on the ground in those two games, both of which resulted in defeat.
4. Royal Purple Las Vegas Bowl: USC (-5.5) vs Fresno State (+5.5)
Saturday, December 21, 3:30 PM ET
USC (9-4) will be on their third coach of the season as offensive coordinator Clay Helton will lead the Trojans on an interim basis in the Royal Purple Las Vegas Bowl against the Mountain West champion Fresno State Bulldogs (11-1).
USC went 5-1 SU in their last 6 games under Ed Orgeron, but lost 35-14 to UCLA in the season finale. The Trojans allowed the fewest passing yards in the Pac-12 at just 214.5 yards per game.
They will face the most prolific passer in the nation in Derek Carr. Carr, who will be playing the last game of his college career, led in the FBS in passing yards (4,866) and TDs (48) while completing 70% of his passes. The Bulldogs also ranked in the top 5 in the nation in scoring, averaging 45.3 points per game this season.
5. Russell Athletic Bowl: Louisville (-3) vs. Miami (FL) (+3)
Saturday, December 28, 6:45 PM ET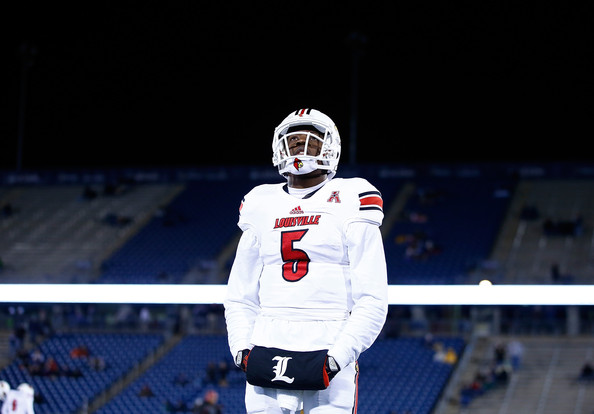 The Russell Athletic Bowl will most likely be Louisville QB Teddy Bridgewater's college swansong. The prospective top NFL pick had another stellar season, completing 70% of his passes with 9.2 yards/attempt and a 7:1 TD/INT ratio. But aside from having the best pro quarterback prospect, Louisville (11-1) also has one of the nation's best defenses, which has allowed just 12.4 points per game, 3rd in the FBS.
That sturdy defense will be tested by a talented Hurricanes offense that ranked 3rd in the ACC with 446.8 total yards per game. Miami (9-3) quarterback Stephen Morris trailed only Heisman candidates Jameis Winston and Tajh Boyd in total passing yards in the ACC and his favorite target, Allen Hurns, averaged 94.8 receiving yards per game, the 2nd most in the conference.
Head over to the sportsbook now to place your bets on all the great match-ups in the 2013-2014 College Bowl Season.
[sc:BettingArticlesShortcoder ]
[EPSB]
[/EPSB]
2,776 total views, 1 views today
Comments
comments