The Bowl Championship Series is set to bow out with a bang as the Florida State Seminoles and Auburn Tigers contest the final BCS National Championship Game in history on January 6, 2013 at the Pasadena Rose Bowl.
The 2010 winner, Auburn, has their sights set on keeping the SEC's streak of four straight national championships alive, but standing in their way are the Seminoles and prodigious freshman, Jameis Winston, who is poised to make history in Pasadena.
2013-2014 College Bowl Previews:
College Football Betting Preview: Auburn vs. Florida State in the 2014 Vizio BCS National Championship Game
Game Details
When: 8:30 PM ET, January 6, 2014
Where: Rose Bowl, Pasadena, CA
Odds:
*As of December 9
Money: Auburn (+230) vs. Florida State (-270)
Spread: Auburn (+8) vs. Florida State (-8)
Totals: 65.5
Betting on the Auburn Tigers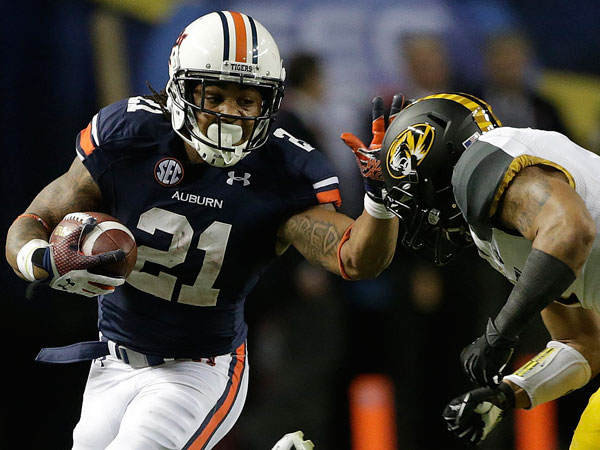 Auburn's worst-to-first fairy tale is almost complete. After last season's disastrous 3-9 campaign (and a humiliating record 0-8 in the conference) which led to the firing of 2010 national title-winning coach Gene Chizik, first year head coach Gus Malzahn has brought the Tigers back to the very top of the SEC – and on the brink of a second national championship in four years.
Auburn very much earned their place in Pasadena. The Tigers – 9-1 SU in their last 10 games and a perfect 10-0 ATS – had some incredibly good fortune (see the "Prayer at Jordan-Hare" and the "Kick Six"). But the fact remains: they defeated their last three opponents, all ranked in the Top 25, two of which were in the top 5. [sc:NCAA240banner ]
Their record-breaking performance over #5 Missouri in the SEC Championship Game clinched them a spot in the title game. Game MVP Tre Mason had one of the all-time greatest performances by a running back; he broke five individual SEC Championship Game records, including most rushing yards (304), rush attempts (46) and touchdowns (4).
In total, the Auburn running game (now ranked #1 at 335.7 yards/game) ran for a total of 545 yards against a Mizzou run defense that came into the game ranked 14th in the nation (119.1 yards allowed/game) – which is now the current ranking of Florida State.
In their last four games, the Tigers – led by Mason and dynamic QB Nick Marshall – have tallied over 400 yards per game on the ground. Marhsall has averaged 125 rushing yards over that span, while Mason has broken 160 yards in three of his last five games.
But as dominant as Auburn's offense has been, their defense is just as likely to get dominated. The Tigers D has allowed on average over 500 total yards to its last three opponents, with 300-plus yard passing games against Georgia and Mizzou. They have also given up 200-plus yards rushing in four of their last five games.
Will the Tigers prolong the SEC's dominance in the BCS National Championship Game? Bet now on the Auburn Tigers.
Betting on the Florida State Seminoles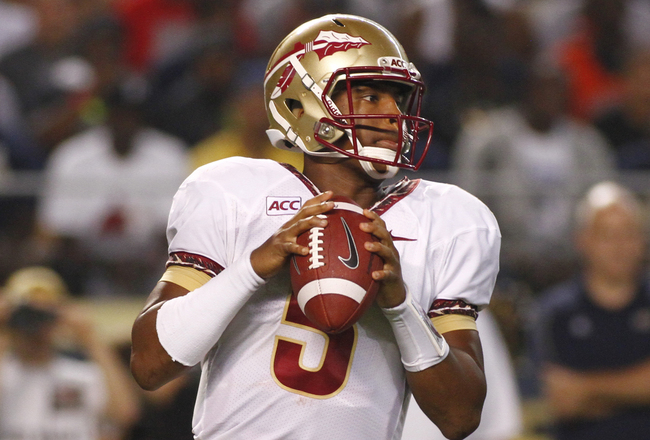 Jameis Winston is one step away from immortality. The redshirt freshman is the overwhelming favorite to take this year's Heisman Trophy, which would make him only the second first-year recipient. A win in Pasadena would also make him the first freshman in history to claim both the Heisman and the National Championship.
Winston's credentials (sexual assault allegations notwithstanding) are undeniable; aside from leading his team to a perfect 13-0 record and a trip to the title game (the school's first since 2000), he also set FBS freshman records this season for passing yards (3,820) and TD passes (38), three of which he threw in the ACC Championship Game. [sc:NCAA240banner ]
It wasn't his greatest game of the season. He had more than one interception for only the second time all season, and he threw five incompletions in the first quarter as Florida State was held scoreless in the opening frame for the first time this season. But the Noles rallied to record another dominant 45-7 win over Duke.
Their 45-7 win actually lowered their scoring average to 53.0 points (they fell to 2nd behind Baylor), as well as their staggering average margin of victory, which dropped to just 43.7 points.
Winston and the offense receive the praise, but their defense also deserves a bulk of the credit for their success. The Noles D is ranked 1st in the nation in points against (10.7), passing defense (152 yards allowed) and interceptions (25).
The over is 10-3 in FSU's games this season, but it has gone under in their last two games.
They won't need to worry much about Auburn's aerial game, and their run defense should be well-equipped to handle Tre Mason and friends. They were 14th in stopping the run (116.54 yards) and their five rushing touchdowns allowed is tied for the least in the nation.
Will Jameis Winston complete the perfect freshman season? Bet now on the Florida State Seminoles.
[EPSB]
[/EPSB]
2,275 total views, 1 views today
Comments
comments