The UCF Knights and Baylor Bears will get their first taste of BCS Bowl action when they square off on New Year's Day in the Tostitos Fiesta Bowl.
The Bears secured an automatic berth after winning the Big 12 for the first time in their history, while the Knights earned their berth after a very successful first season in their new conference.
2013-2014 College Bowl Previews
College Football Betting Preview: UCF vs. Baylor in the 2014 Tostitos Fiesta Bowl Game
Game Details
When: 8:30 PM ET, January 1, 2014 [sc:NCAA240banner ]
Where: University of Phoenix Stadium, Glendale, AZ
Odds:
*As of December 10
Money: OFF
Spread: UCF (+16.5) vs. Baylor (-16.5)
Totals: OFF
Betting on the UCF Knights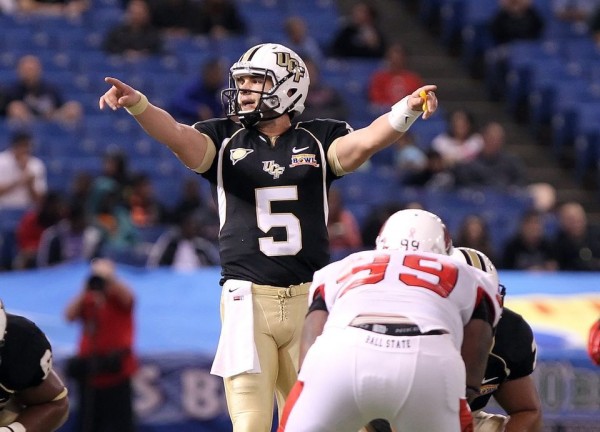 UCF wasted no time taking over their new conference. In their first season in The American, the Knights finished 12-1 – 8-0 in the conference – to earn their very first BCS Bowl game.
Since their defeat to South Carolina, UCF is 8-0 SU in their last eight contests. The most seminal of those games came in their visit to Louisville in October. The Cardinals, helmed by top NFL prospect Teddy Bridgewater, were favorites to claim the conference and were mere seconds from doing so. But the Knights scored a key touchdown with just 23 seconds remaining to deal Louisville a crucial loss.
Quarterback Blake Bortles orchestrated that all-important final drive, one of his five game-winning drives this season. The junior's NFL stock grew with his great play this year – his passing accuracy jumped six percentage points to 68%, as did his yards per pass average, from 7.7 to 9.3 yards.
Bortles has had a lot of success with his deep receiving corps. Four receivers caught over 35 passes, three topped 600 yards and five had three or more TDs. UCF's defense unit is no liability either; the Knights are ranked inside the top 20 in the nation in four defensive categories, including total defense and scoring defense.
Can these Knights slay the ferocious Bears? Bet now on the UCF Knights.
Betting on the Baylor Bears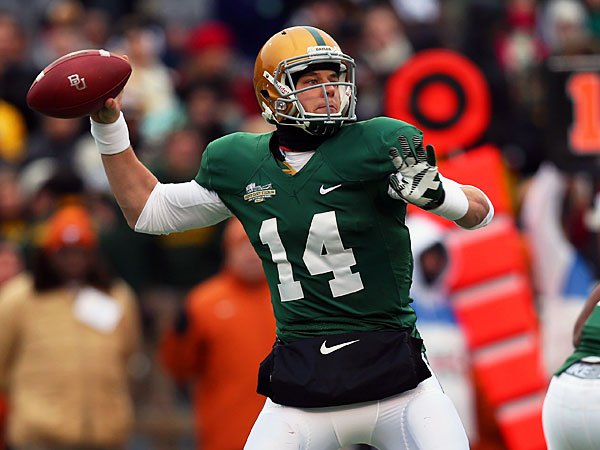 Once perennial doormats in the Big 12, Baylor has finally shed that interminable tag. Under head coach Art Briles, they claimed their first conference crown, and with it, an automatic trip to the Fiesta Bowl. [sc:NCAA240banner ]
The Bears had dreams of a possible national title game berth dashed in Stillwater with a heavy 49-17 defeat against Oklahoma State. But they can still consider this season a major success, with the first ever BCS bowl berth in school history still to play for.
Baylor's calling card first and foremost has been their high-octane offense. Briles is the architect of the #1 ranked offense (53.3 points, 624.5 yards) in the country and quarterback Bryce Petty is his chief engineer. Petty's 10.8 yards per attempt is second only to Heisman frontrunner Jameis Winston. He also has an impeccable 15:1 touchdown-to-interception ratio, the best for quarterbacks with 30 or more TDs.
But overlooked amid their gaudy offensive numbers is Baylor's bearish defense. The Bears ranked second in the conference in scoring defense (21.2 points), passing defense (207.8 yard) and total defense (343.7 yards).
The Bears were 3-0 against their non-conference foes this season with a staggering 62-point average margin of victory.
Will the Bears maul and overpower the Knights? Bet now on the Baylor Bears.
[EPSB]
[/EPSB]
1,733 total views, 2 views today
Comments
comments