Losing to the Cleveland Browns is more than enough reason for the New Orleans Saints to sound the alarm. But it sounds even more troublesome when that loss just dug the team a deeper hole to get out of in the NFC South.
Three-straight losses to start the season is an idea Saints' fans and even football experts could barely wrap their minds around if someone told them that back in the preseason. Can the Saints spare themselves further embarrassment? Or will the returning Adrian Peterson and the rest of the Minnesota Vikings give New Orleans a grand spanking at the Superdome? Update: the Vikings have now un-reinstated Peterson, placing him on the Exempt list, as the NFL continues to bumble about.
Check out other Week 3 game previews, including Bears vs. Jets and 49ers vs. Cardinals.
[sc:Football ]
Minnesota Vikings vs. New Orleans Saints Betting Preview and Prediction
Where: Mercedes-Benz Superdome, New Orleans
When: Sunday, September 21, 1:00 PM ET
Line: Minnesota Vikings (+10.5) at New Orleans Saints (-10.5); total 50.0 – see all NFL lines
Betting on the Minnesota Vikings
[sc:NFL240banner ]The football gods took away Purple Jesus from the Vikings – at least for a game – just as Minnesota was feeling less dependent on Adrian Peterson after Cordarrelle Patterson's huge game in the Vikings' 34-6 road win over the St. Louis Rams in Week 1.
Turns out the Vikings would still look completely lost without the 2012 NFL MVP, as the team lost 30-7 to the New England Patriots in Week 2.
The Vikings will now head to New Orleans to seek for consecutive road wins for the first time since 2012. Against the Rams, Patterson upstaged Peterson in the rushing department, as he collected 102 yards with a touchdown on just three carries, while AP mustered just 75 yards on 21 carries.
Patterson, however, gained zero carries versus the Patriots, who were zoned in on preventing the wideout from getting touches, a task which could have been more difficult for the Pats if Peterson was there to garner most of the defense's attention. And so it shall remain – Peterson is out for at least one more week. Matt Asiata (221 yards, 3.1 YPC in 2014) will start at running back for the Vikings.
Cassel had an ugly game versus the Pats, throwing for 202 yards on 19-of-36 passing with a TD and four huge interceptions. He should find more success connecting with Patterson against the Saints' problematic defense.
Create a betting account now and cash in on NFL games.
Betting on the New Orleans Saints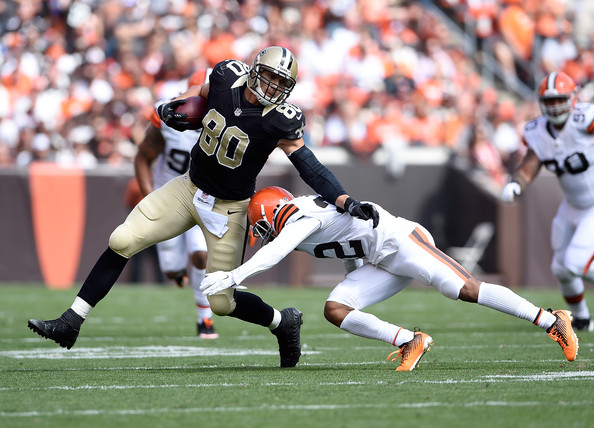 Two road games and two losses for New Orleans. Sounds familiar? The Saints, who were a Jekyll and Hyde at home and on the road last season, continue to be miserable away from the Superdome, losing in Atlanta (37-34 OT) and in Cleveland (26-24), respectively, to begin their season 0-2.
New Orleans' early struggle, however, is more than just location-based. Most of the team's woes fall on the shoulders of a defense that has allowed opponents to eat up an average of 446.0 total yards per game. The occasional blitzes, in particular, employed by the Saints have stunk, as they failed to put any added pressure on Matt Ryan and Brian Hoyer, who combined for 652 passing yards.
Defensive coordinator Rob Ryan has those catastrophes to serve as warnings that his seat is about to get warmer should the Saints flop in containing QB Matt Cassel and Asiata on Sunday.
Where the Saints looked good, though, is on offense. Drew Brees and Jimmy Graham continue to be the rocks that the Saints' offense is built upon. Brees is putting up 285.0 passing yards a game with three TDs, while Graham tucked a 118-receiving-yard game under his belt in the loss to the Browns to go along with his two touchdowns.
Look for Brees to throw often to whomever Vikings cornerback Xavier Rhodes is covering. Rhodes, who is coming off a groin injury, was abused by Tom Brady in Week 2. The QB threw six of his 22 passes at the cornerback's direction, four of which was when Rhodes was hounding receiver Julius Edelman, who in turn caught 6-of-7  passes for 81 yards and a TD.
The Saints finished last season with a pathetic 3-5 road record, but made the playoffs on the strength of a dominant 8-0 record at home. They will have a chance to resuscitate their increasingly frustrating season when they host Minnesota at home, where New Orleans is 9-0 and 7-1-1 ATS in its last nine games there.
Writer's Prediction
A Peterson-less Vikings team distracted by the scandal limps into New Orleans and an angry Drew Brees, who turn their season around and cover -10.5.
[sc:NFL490Banner ]
1,983 total views, 1 views today
Comments
comments