He back, people. Trust him. He back. Anderson "The Spider" Silva makes his most anticipated return to the Octagon after serving a one-year suspension for performance-enhancing drugs. He enters hostile territory taking on Brit Michael "The Count" Bisping in his home soil of London, England.
Silva is one of the all-time greats in mixed martial arts. Does he still have what it takes to have another spectacular outing? Or will he be a step too slow against the relentless Bisping? Read on as we take a close look before the two shake up London's O2 Arena.
Back Stateside, some of the best stock car drivers will be testing their mettle Sunday afternoon. Check out our complete preview for the Folds of Honor Quik Trip 500 at the Atlanta Moto Speedway. Looking for a solid dog to bet? Then check out our best sleeper picks for this weekend's race.
Sports News and Predictions
UFC Fight Night 84: Silva vs. Bisping Preview
Middleweight: Anderson Silva vs. Michael Bisping
Line: Anderson Silva (-320) vs. Michael Bisping (+240) – view all UFN 84 lines
Even before today's host of amazing mixed martial artists, Anderson "The Spider" Silva sat atop the sport's pound-for-pound rankings. A stellar striker, Silva would routinely pull off moves and tricks long thought to be undoable. He'd drop his hands to bait his opponents to counter; he'd put himself in harm's way with his back to the cage; he'd even dance in the middle of the Octagon in disdain of his opponents' skills.

$50 Free to bet on UFC! Open an account and deposit $100 to claim.
Despite all his antics, Silva routinely came up with knockout victories. He pulled off the first ever front kick knockout in UFC history against a very good striker, Vitor Belfort. He dodged punch after punch and kick after kick from Rich Franklin before unleashing his own offense. He even knocked out former UFC Light Heavyweight Champion Forrest Griffin with a jab.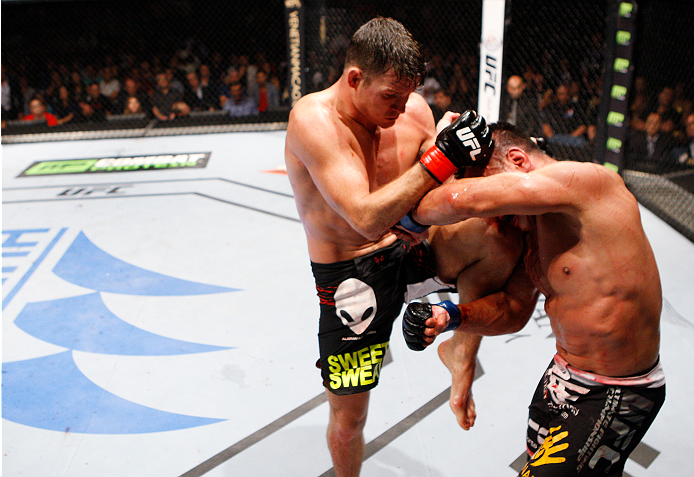 Silva is a special talent. But don't forget that he's already 40 years old! Michael "The Count" Bisping surely has a chance of an upset if the Spider shows his age. Bisping is a gritty kickboxer, stringing together endless combos to overwhelm his opponents. But he didn't actually look too dominant in his latest outing.
The Count struggled in a split decision victory over Thales Leites in July 2015. But he still outlanded his Brazilian foe 115-79. Bisping will need to be extremely sharp in this matchup. He can't overextend himself against an excellent counter striker like Silva. If Bisping overcommits on his combos, then he may find himself staring straight at the stadium lights.
Writer's prediction: Silva (-320) takes his time. He plays around until he lands the fight-ending left hand in the third round.
Middleweight: Gegard Mousasi vs. Thales Leites
Line: Gegard Mousasi (-320) vs. Thales Leites (+240) – view all UFN 84 lines
Gegard Mousasi is the dark horse of the UFC Middleweight Division. He has elite striking skills. He dominates opponents with his solid fundamentals. His jab and straight can get opponents out of their rhythms. His kicks are also pretty solid, albeit he has used them sparingly. It's not all striking for Mousasi. He's also a strong grappler from top position, suffocating his opponents with relentless pressure.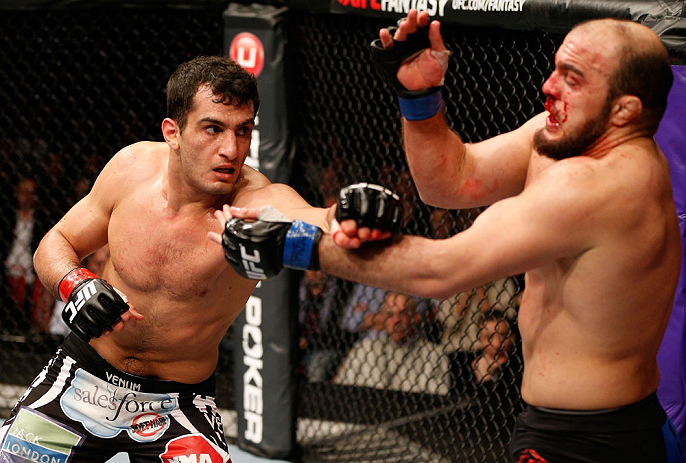 Thales Leites has entered a career renaissance. He's made waves in the UFC since his return in 2013. He won five straight before dropping a split decision to Michael Bisping. Leites could have earned the nod, but was a little bit too inactive. Aside from a much-improved striking game, Leites is an excellent grappler if he gets top position. He'll likely want this fight to happen on the mat as a Brazilian Jiu Jitsu black belt.
Writer's prediction: Mousasi (-320) sticks straight punches in Leites' face en route to a unanimous decision victory.
Welterweight: Tom Breese vs. Keita Nakamura
Line: Tom Breese (-1,000) vs. Keita Nakamura (+600) – view all UFN 84 lines
Tom Breese is a monster. The Englishman has won all nine of his professional fights by way of knockout or submission. He's made a spectacular run in his young UFC career with back-to-back technical knockout victories over Luiz Jorge Dutra Jr. and Cathal Pendred. He's set for a showcase against vet Keita "K-Taro" Nakamura. The Japanese fighter enters this fight having won five straight, all by finish.
Writer's prediction: Breese (-1,000) demolishes Nakamura by first round technical knockout.
Bantamweight: Francisco Rivera vs. Brad Pickett
Line: Francisco Rivera (-225) vs. Brad Pickett (+175) – view all UFN 84 lines
Brad Pickett is getting old. But before he decides whether to continue his career or hang ém up, he'd want to electrify the fans in his native England. He gets his wish when he faces slugger Francisco Rivera to open up the main card on Saturday.
Rivera has mean fists, winning eight of his professional victories by knockout. But he's doesn't react well when getting hit. Pickett is a solid puncher himself as shown by his two knockdowns against top prospect Thomas Almeida last July.
Writer's prediction: Rivera is quite chinny. Pickett (+175) has the performance of his life as he wins on his native soil.
Preliminary Card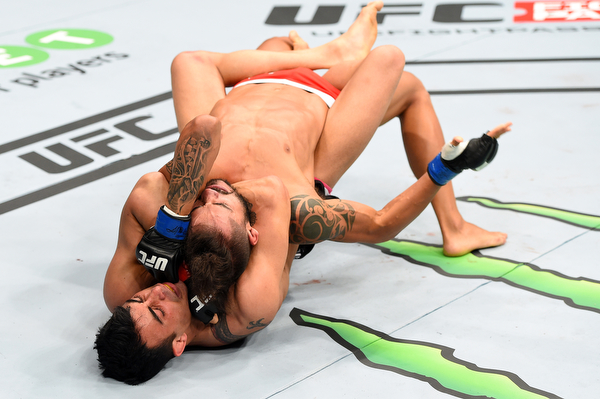 Makwan Amirkhani (-200) gets the first round submission over Mike Wilkinson.
Davey Grant (-180) makes a successful return to the Octagon with a unanimous decision victory over Marlon Vera.
Scott Ashkam (-350) batters Chris Dempsey en route to a unanimous decision victory.
Arnold Allen (-320) gets the submission victory over Yaotzin Meza.
Krzysztof Jotko (-175) out-duels Bradley Scott toward a unanimous decision.
Stormin' Norman Parke (+210) uses his Judo to stifle Rustam Khabilov.
Jarjis Danho (-115) knocks out Daniel Omielanczuk in the first round.
Teemu Packalen (+105) submits Thibault Gouti in the second round.
David Teymur (-135) knocks out Martin Svensson in the second round to kick off the preliminary card.
Create a betting account now and win big on the best mixed martial arts action in the world.

Comments
comments