No team was more badly beaten than the Houston Texans in Week 7, as they were taken to the woodshed by the rejuvenated Miami Dolphins. A chance to bounce back is on tap for the Texans next Sunday, as they host the visiting Tennessee Titans. The Titans are on a downward spiral and are virtually out of playoff contention having lost their last five games. Will the Titans end their skid? Or will Houston prevent further damage to its record?
For more Week 8 game previews, you can also read our breakdown of Lions vs. Chiefs and Packers vs. Broncos.
[sc:Football ]
Tennessee Titans vs. Houston Texans Preview and Prediction
Where: Reliant Stadium, Houston
When: Sunday, November 1, 1:00 PM ET
Line: Tennessee Titans vs. Houston Texans – see all NFL lines
TV Broadcast: CBS
Betting on the Tennessee Titans (1-5)
[sc:NFL240banner ]Without Marcus Mariota under center, the Titans called on the number of Zach Mettenberger, who looked as if he somehow forgot to play football against the Falcons. With their offense in disarray, producing just 256 total yards, the Titans were once again handed a 10-7 loss by Atlanta on Sunday. That's Tennessee's five-straight loss since winning its opener against Tampa Bay.
The Titans, however, are likely a week away from being Mettenberger-free, as Mariota is expected to be back in Week 8—just in time for the Houston game. Mariota didn't play against Atlanta, as he was still recovering from a sprained MCL, which he got in in the Titans' 38-10 loss to Miami back in Week 6.
Mariota was injured after an illegal hit by Dolphins defensive end Olivier Vernon, but that doesn't mean that the Titans' offensive line had nothing to do with it. Tennessee's O-line has been a team liability this season, as evidenced by the 21 sacks they've already allowed this season—fifth most in the NFL. Mariota's protection will have to tighten up next Sunday or else risk Mariota's health once again against a J.J. Watt-led Houston pass rush.
In any case, look for the Titans to turn to their backfield in Week 8. Dexter McCluster and Bishop Sankey haven't impressed this season, combining for only 3354 rushing yards and a solitary touchdown, but the temptation to ram the football down the throat of Houston's weak run defense will be there. The Texans allow 128.9 rushing yards per game.
The over is 4-2 in the last six games of Tennessee, which averages 19.8 points per game.
Create a betting account now and cash in on all the NFL regular season action.
Betting on the Houston Texans (2-5)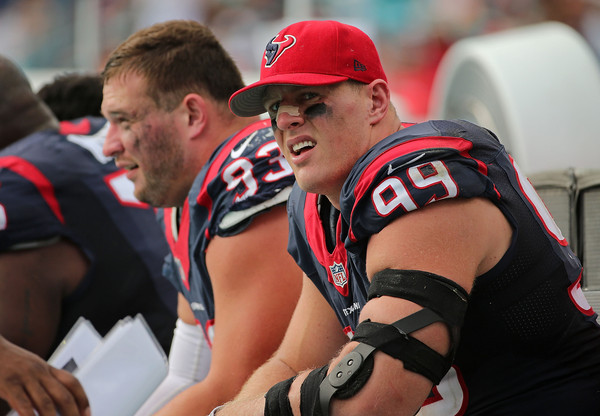 Ryan Mallet missed the team flight to Tennessee on Sunday and instead took a commercial flight. In other words, Mallet paid his own ticket to see his team get absolutely massacred on Sunday, when the Texans received a 44-26 beating at the hands of the Dolphins.
The Texans' bad night was only worsened by the news that star running back Arian Foster had torn his Achilles , an injury that might end his season. Foster's injury is a big blow to Houston's backfield that is looking to exploit Tennessee's thin run defense that surrenders 129.2 rushing yards per contest.
Backups Alfred Blue (226 rushing yards and one touchdown) and Chris Polk (134 rushing yards) should see more snaps next game, but neither of them has the capacity to strike fear down the Titans' defense.
With Foster gone, the Texans would be forced to rely even more to their passing game that averages 291.1 yards per game.
Houston had a rough time moving the chains early in the Dolphins game, with Brian Hoyer orchestrating six three-and-out drives in the team's first seven possessions. Overall, Hoyer passed for 273 passing yards and three touchdowns, most of which came in garbage time.
Speaking of garbage, Houston's defense was just plain foul against Miami. Despite the presence of J.J. Watt, Brian Cushing, Vince Wilfork, and Jadeveon Clowney. Houston looked helpless opposite the Dolphins, who posted 255 passing and 248 rushing yards. For what it's worth, Houston was able to record four sacks, which suggests that there's still life for the team's stop unit.
As mentioned, Tennessee's offensive line isn't the sturdiest out there, and it's something Watt and company will surely target next week.
Houston is 4-1 ATS in its last five home games against the Titans.
Writer's Prediction
Houston wins, 21-17.
Create a betting account now and create a winning NFL parlay.
[sc:NFL490Banner ]
2,063 total views, 1 views today
Comments
comments