It's going to be one hell of a Saturday with plenty of action all across sports. UFC Fight Night 85 takes the cake in primetime with a heavyweight matchup between the legendary Mark Hunt and Frank Mir. The main event will surely provide a vicious finish for those craving for action. But the rest of the card also has the makings to make it one memorable night.
Don't miss out on all the fights heading your way. Read on for everything you need to know ahead of UFN 85. Want to keep yourself occupied before all the MMA action starts? Then check out our complete previews for March Madness Round 2 games Kansas vs. Connecticut and Virginia vs. Butler.
March Madness News & Predictions
UFC Fight Night 85: Hunt vs. Mir Preview
Heavyweight: Mark Hunt vs. Frank Mir
Line: Mark Hunt (-170) vs. Frank Mir (+140) – view all UFN 85 lines
It doesn't get any more super than Mark "The Super Samoan" Hunt fighting on his home soil of Australia. Despite being 41 years of age, Hunt is still a force to be reckoned with in the UFC Heavyweight Division. He came oh-so-close to winning the UFC Interim Heavyweight Championship in November 2014, but the short notice had him gassing out leading to a second round TKO loss to Fabricio Werdum.

$50 Free to bet on UFC! Open an account and deposit $100 to claim.
Hunt then lost by TKO to Stipe Miocic. Weight was his issue that time around; he failed to mount any sort of offense against his much younger opponent. He was dominated on the ground as he gassed out late into the fight, leading to a fifth-round TKO loss. Hunt addressed his issues, focusing on cardio since his losses. A Super Samoan with a big gas tank will be a nightmare to face.
Hunt has one-punch knockout power. Five of his six wins in the UFC have come by knockout or TKO. He most recently knocked out Antonio "Bigfoot" Silva in first round last November. He's also very difficult to take down due to his low center of gravity, being 5-foot-10 and weighing over 250 pounds.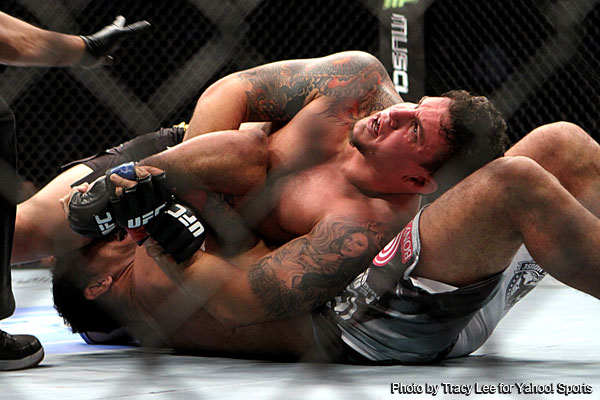 Enter Frank Mir. A former UFC Undisputed and Interim Heavyweight Champion, Mir has plenty of tools in his arsenal. He has sharp boxing and knockout power on his feet. He'll most likely want to avoid the striking exchanges against a vicious striker like Hunt, though. His bread-and-butter remains his grappling skills.
Mir has won nine of his 18 fights by submission. His most notable of which came in 2011 when he snapped Brazilian Jiu Jitsu black belt and MMA legend Antonio Rodrigo Noguiera's arm in half with a kimura. He was even dazed after taking a hellacious beating on the fence before grabbing a hold of Nogueira's arm.
Mir is dangerous everywhere. But he has one glaring hole. He doesn't absorb damage too well; seven of his 10 losses have been by knockout or TKO.
Writer's prediction: Mark Hunt (-170) gets the walk off knockout. He bludgeons Mir in the second round.
Welterweight: Hector Lombard vs. Neil Magny
Line: Hector Lombard (EVEN) vs. Neil Magny (-130) – view all UFN 85 lines
Neil Magny is a crafty up-and-comer making waves in the UFC Welterweight Division. He knows how to use his length to his advantage standing at 6-foot-3 with an 80-inch reach. He relies on a solid one-two combination and the occasional kick. When opponents close in on him, he uses his length for leverage with an arsenal of trips and throws.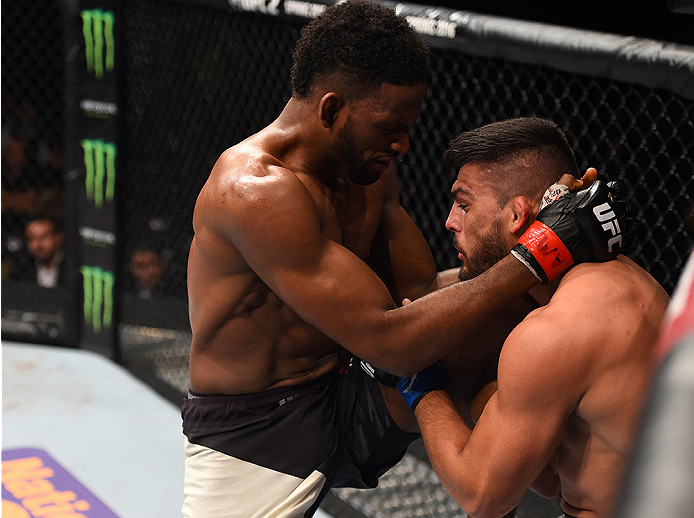 Magny will want to stay on his bicycle for this fight. He wouldn't want to clinch up with a former Judo Olympian Hector Lombard. A Cuban-born Australian, Lombard has plenty of power up close. He can toss his opponents on their heads when he gets the clinch, or knock them out with power in both his fists. But he's giving up six inches in height and nine inches in reach to Magny. He's also coming off a year-long suspension due to performance-enhancing drugs.
Writer's prediction: Magny's on his way up. Lombard has shown plenty of mental lapses in the Octagon. Magny (-130) wins by unanimous decision.
Welterweight: Johnny Case vs. Jake Matthews
Line: Johnny Case (-115) vs. Jake Matthews (-115) – view all UFN 85 lines
Jake Matthews is an up-and-coming Aussie who has knockout power and a good grappling background. But he's still pretty green as evidenced by his loss to James Vick in May 2015. He'll be tested by Johnny Case, a relentless all-around fighter on a 12-fight win streak. Case is a veteran who's still showing improvement.
Writer's prediction: Case (-115) has the experience edge. Expect him to bring the fight to Matthews in a gritty victory.
Middleweight: James Te Huna vs. Steve Bosse
Line: James Te Huna (-260) vs. Steve Bosse (+200) – view all UFN 85 lines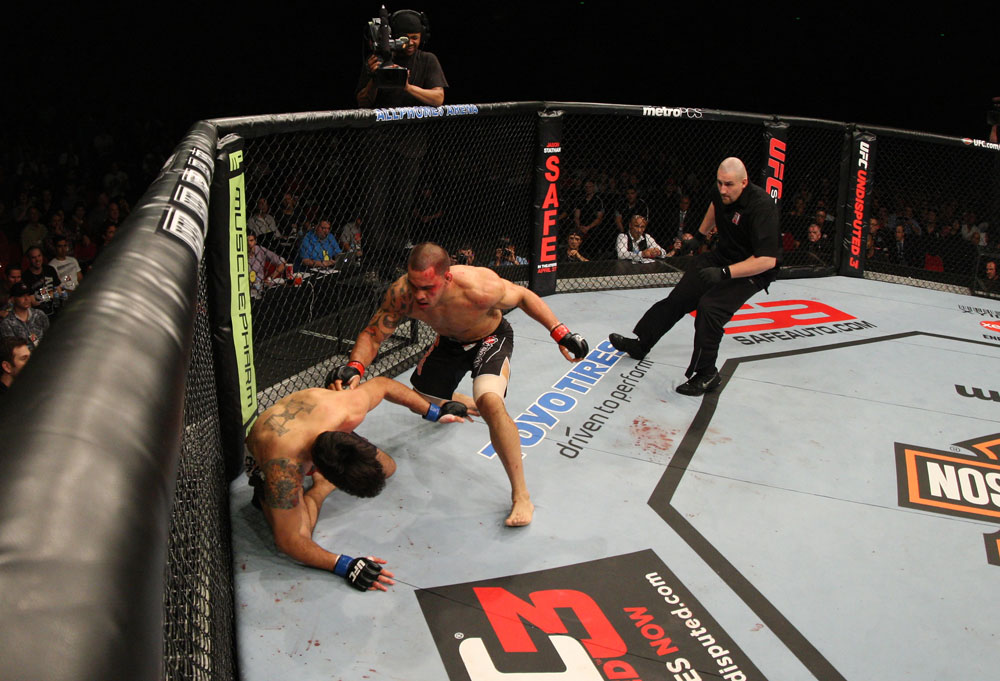 James Te Huna is back after taking a hiatus. He lost three straight before taking a break and figures to get back in the win column on his home soil of Australia. Te Huna is a knockout artist with 10 of his 16 wins coming by KO or TKO. His opponent, Steve Bosse, will be happy to oblige. Bosse is a former hockey goon from Montreal, Canada. While he may not be UFC-caliber, all he needs is to land one big bomb to win.
Writer's prediction: Te Huna (-260) gets the job done with a KO in the first round.
Middleweight: Antonio Carlos Jr. vs. Daniel Kelly
Line: Antonio Carlos Jr. (-500) vs. Daniel Kelly (+350) – view all UFN 85 lines
Antonio Carlos Jr. is big and strong fighting in the middleweight division. He has plenty of advantages with his length and strength, especially if he gets his opponents on the ground. Carlos is a solid Brazilian Jiu Jitsu black belt with four of his five wins coming by submission. His opponent, Daniel Kelly, may be overmatched. But fighting on his home soil may give him a spark.
Writer's prediction: Carlos (-500) grinds out Kelly for a unanimous decision.
Women's Strawweight: Seo Hee Ham vs. Bec Rawlings
Line: Seo Hee Ham (-130) vs. Bec Rawlings (EVEN) – view all UFN 85 lines
It's going to be one hell of a barnburner to open the main card when Seo Hee Ham meets Bec Rawlings in the Women's Strawweight Division. Ham is a relentless kickboxer who's quick on her feet. She can dart in and out of striking range by chaining punches and kicks. Rawlings is also a striker, but he happens to be too flat-footed in the Octagon.
Writer's prediction: Ham (-130) wins by unanimous decision.
Fox Sports 1 Prelims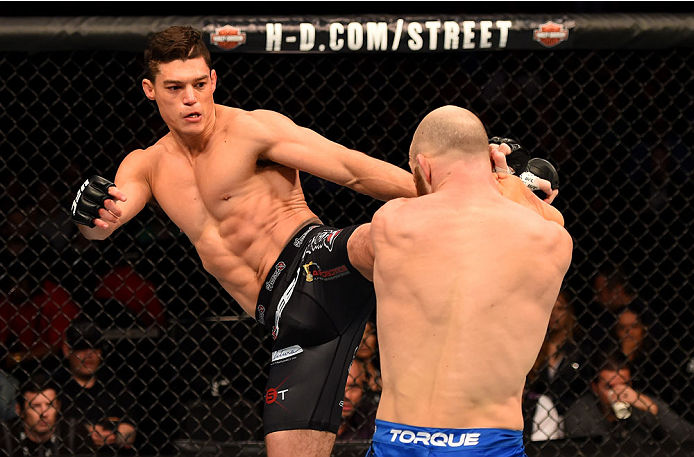 Alan Jouban (-500) beats up Brendan O'Reilly en route to a second-round TKO finish.
Mark Eddiva (+160) upsets Dan Hooker by unanimous decision.
Leslie Smith (-165) beats up a severely undersized Rin Nakai for a lopsided decision win.
Viscardi Andrade (-115) beats up Rich Walsh in a unanimous decision win.
UFC Fight Pass Prelims
Ross Pearson (-105) edges out Chad Laprise in a close decision victory.
Alan Patrick (-260)finishes late notice replacement Damien Brown in the second round to kick things off in Australia.
Create a betting account now and grab some much needed mixed martial arts action to fuel your weekend.

Comments
comments